There's a path that leads to nowhere
In a meadow that I know,
Where an inland island rises
And the stream is still and slow;
There it wanders under willows
And beneath the silver green
Of the birches' silent shadows
Where the early violets lean.

Other pathways lead to Somewhere,
But the one I love so well
Has no end and no beginning--
Just the beauty of the dell,
Just the wind-flowers and the lilies
Yellow-striped as adder's tongue,
Seem to satisfy my pathway
As it winds their scents among.
There I go to meet the Springtime,
When the meadow is aglow,
Marigolds amid the marshes,--
And the stream is still and slow.
There I find my fair oasis,
And with care-free feet I tread
For the pathway leads to Nowhere,
And the blue is overhead!

All the ways that lead to Somewhere
Echo with the hurrying feet
Of the Struggling and the Striving,
But the way I find so sweet
Bids me dream and bids me linger,
Joy and Beauty are its goal,--
On the path that leads to Nowhere
I have sometimes found my soul!


This poem is in the public domain.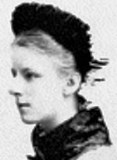 Corinne Roosevelt Robinson (1861 – 1933) was born in New York City. The youngest sister of President Theodore Roosevelt, she fell in love with writing early on and ultimately published five books of poetry, a biography of her brother, and a memoir. Corinne was active in politics throughout her life and was a generous supporter of charitable causes. She was also the first woman ever to speak at a political nomination convention, although her nomination of General Leonard Wood as the 1920 Republican candidate for president ended with Warren G. Harding claiming that role.
CamilleBalla:
Especially like the last stanza. It has enough power to stand alone. Thanks for sharing this.
Posted 09/27/2021 11:35 PM
Arlene Gay Levine:
Nowhere is the ultimate destination and it is a shame most people miss it when all it really takes is a few moments out of one's busy day. Thanks, Jayne, for this wonderful poetic reminder...
Posted 09/27/2021 03:42 PM
bobbi43sml@aol.com:
Mysoulmate for sure...a beautiful, fully literate and grownup version of my tiny twelve year old effots in "My Quiet Place". So peaceful and melodic...need this one everyday.
Posted 09/27/2021 11:32 AM
KevinArnold:
Didnt someone tell Corinne that you never use exclamation points in a poem? She broke that hallowed rule not once but twice! Seriously, great poem. Such rhythm and flow.
Posted 09/27/2021 10:17 AM
Darrell Arnold:
An old-school poem for an old-school guy. I love this. Meditation, contemplation, relaxation, rejuvenation. I enjoy all these things while meandering along my paths that lead to nowhere. The older I get, the more of these pathways are to be found.
Posted 09/27/2021 09:34 AM
cork:
Now I am going nowhere and feeling good about it.
Posted 09/27/2021 08:50 AM
michael escoubas:
Agree totally with the sentiment of this lovely, well-constructed poem. Very nice, as is the brief historical overview of Robinson's connection with President Roosevelt.
Posted 09/27/2021 08:45 AM
Larry Schug:
Wow! This is why I begin my day with poems--to light the day's candle rather than wake in a dark cloud. These days this could be called a poem of privilege, but I prefer to think of it as a doorway to a world we could have if we only would work for it.
Posted 09/27/2021 08:21 AM