Have I taught you the right things, my darlings?
Between manners and morals,
folding pants legs seam to seam,
washing whites and colors separately,
and how to pin a corsage,
did I remember to teach about love?
About loyalty and listening and persistence
and patience and always remembering
to put down the toilet seat?

While I ferried you to school and soccer,
sleepovers and band, birthdays and
baseball and church,
did I make time to talk about life?
About giving and caring, honesty and ethics,
the splendor of a sunrise, the magic of music,
the satisfaction of a job well done,
and never to leave
before the credits have run?

There's so much that matters!
Whom to love, whom to trust, deferred gratification,
flexibility, education, a fulfilling occupation . . .
Oh, I want to teach you everything, but life
is so brief—and there's no textbook for Teaching Life
or How to Turn Good Boys into Magnificent Men.
I'll just keep telling you everything I can think of;
you, please, keep asking: "Mom, how . . . ?",
"Mother, what . . .?" and "Mama, when . . .?"

A variation of this poem appears in A Mother of Sons (Loyola Press, 2004).
Used here with permission.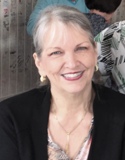 Jayne Jaudon Ferrer is the author of five books of poetry and a nonfiction book about games. Her latest publication is Poems to Lift You Up and Make You Smile, an anthology harvested from the many wonderful poems featured on YourDailyPoem.com, a website she created 12 years ago. Jayne speaks frequently at churches, schools, and writing-related events and her work has appeared in hundreds of publications. When not writing or reading, she enjoys music, old movies, gardening, hiking, and good conversation. A native Floridian, Jayne has lived in Greenville, South Carolina, for the past 27 years. Learn more about her at www.jaynejaudonferrer.com.
Wilda Morris:
Wonderful poem!
Posted 10/08/2021 09:53 AM
Jancan:
So moving and expressive
Posted 09/30/2021 09:59 PM
MLove:
I LOVE this!!!
Posted 09/29/2021 09:54 PM
DavidTookey:
A poem filled with love and hope, care and longing. Wonderful!!!
Posted 09/29/2021 09:32 AM
jamvan:
lovely (and so needed right now)
Posted 09/29/2021 03:02 AM
Lori Levy:
Beautifully expressed, Jayne.
Posted 09/28/2021 10:53 PM
Randy Cadenhead:
Such a rich selection of moments, so magically strung together. Thanks!
Posted 09/28/2021 01:25 PM
Nabby Dog:
This is a gorgeous poem of many questions but the overpowering lasting message is the declaration of unconditional love that a caring, dedicated parent can give.
Posted 09/28/2021 01:05 PM
paradea:
Love this poem!!
Posted 09/28/2021 12:23 PM
Arlene Gay Levine:
Jayne, there may be "no textbook for Teaching Life" but your wise and witty poem sure does a superb job. Loved it!
Posted 09/28/2021 11:36 AM
Janet Leahy:
This is beautiful, I've sent it on to many mothers. Thank you Jayne.
Posted 09/28/2021 10:46 AM
wordartdjc:
Jayne...This is absolutely beautiful. I read and reread it with admiration and agreement all at once. You have caught just the right words as a caring, loving mother must do and be!
Posted 09/28/2021 10:45 AM
Shoshauna Shy:
Beautiful poem from a beautiful woman. Thank you, Jayne, for sharing your own poems with us!
Posted 09/28/2021 10:37 AM
dbatson201:
Great job! What a wonderful reminder of how we should nurture our children...and grandchildren!
Posted 09/28/2021 10:31 AM
Sharon Waller Knutson:
Love this poem for all its brilliant images and wise words. And thank you Jayne for reminding us of National Sons Day.
Posted 09/28/2021 09:54 AM
KevinArnold:
Oh, what great fun. Never lets up, this life-loving poem. And, yes, the subtle wordplay and rhyme. Brava!
Posted 09/28/2021 09:52 AM
cork:
I am thinking about: Mom, Mother, and Mama.
Posted 09/28/2021 09:08 AM
Kay N. Sanders:
So much to love about this poem. I especially love the way the gentle rhyme is unnoticeable but makes the whole poem read like music.
Posted 09/28/2021 08:47 AM
pwax:
Well done! You hit all the pertinent points. And I had to reread to be sure the subtle rhyme I thought I noticed was actually there. Yes, it was. I repeat: well done!
Posted 09/28/2021 08:30 AM
michael escoubas:
WOW! I don't believe these life-premises, could have been better articulated. This finely crafted poem has "universal" fingers. Thank you, Jayne.
Posted 09/28/2021 08:27 AM
r1manchester:
oops....sh/be "affectionate"
Posted 09/28/2021 08:06 AM
r1manchester:
Having seen you in "action" I know this affection poem to be real life for you!
Posted 09/28/2021 08:05 AM
Larry Schug:
I'm impressed by the subtle internal rhymes and the conversational rhythm, as well. Of course, the message communicated within illustrates good parenting so well. I like poems that ask questions. They engage the reader.
Posted 09/28/2021 07:42 AM
paula:
Lovely.
Posted 09/28/2021 07:00 AM
Jccjccac@aol.com:
Your poem makes me want to call my daughter and ask Did I tell you this? Great reflection on what is important to pass on.
Posted 09/28/2021 06:44 AM
Rob:
Great to see a poem from the organizer of this wonderful site--and such a wonderful piece, too, that captures every parent's hopes and concerns so beautifully!
Posted 09/28/2021 06:30 AM