While October was culminating,
autumn got into the jewelry box
of these thriving bushes, and
silently pocketed the emeralds,
leafing these radiant red rubies,
and, running through the pasture,
scattered diamonds on Silver Creek.
Now this crowned season
in crimsoned autumn air,
with fields gone russet,
dazzles brilliantly. Oh,
that I were queen
of these woodlands.


This poem first appeared in Plains Song Review (Vol. XII 2010).
Used here with permission.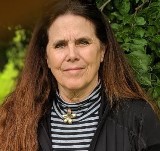 Judy Lorenzen is a writer, poet, and high-school English teacher. Widely published, her inspiration comes from the beauty of the trees, flowers, fields, and farm life around her. Judy lives in Central City, Nebraska.
bruck.ingrid@yahoo.com:
What a lovely poem! So radiant and full of fall colors. Thanks, Judy!
Posted 10/22/2021 08:17 PM
Anastasia:
This is gorgeous, Judy!
Posted 10/22/2021 02:02 PM
Janet Leahy:
This poem in a keeper to be put in the jewelry box of autumn, thanks Judy
Posted 10/22/2021 12:21 PM
cork:
I enjoyed my visit to Nebraska in October. Thank you.
Posted 10/22/2021 10:06 AM
Lori Levy:
Beautiful, colorful scene portrayed in this poem.
Posted 10/22/2021 10:05 AM
Sharon Waller Knutson:
Love the metaphors of emeralds, rubies, diamonds and the alliteration "crowned season of crimsoned."
Posted 10/22/2021 09:51 AM
Larry Schug:
Judy, you may not be the Queen, but you are the handmaiden, to me a position of higher honor. This is a fantastic poem, a crowning achievement, in my eyes. It swells my being.
Posted 10/22/2021 08:48 AM