Hard rocks and impenetrable surfaces are closed off to the world.
Friction, erosion, and pressure wear them down over time.
An entity so hard, stubborn and tough
is now made into something
loved by so many,
whittled by the
sharp knife
of time,
finally
fixed.
We all
now
see
it
as
p
e
r
f
e
c
t
!


© by Matthew McGuirk.
Used here with the authorís permission.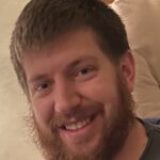 Matthew McGuirk lives with his family in rural New Hampshire, where he teaches high school English. Matthew loved reading and writing from a young age and was especially fond of R. L. Stine and Stephen King. His poetry and short stories have appeared in a variety of magazines and journals. Follow Matthew on Instagram at @mcguirk_matthew.
Wilda Morris:
Well done! Cleverly shaped.
Posted 10/29/2021 11:09 AM
Jancan:
Very expressive and descriptive. I especially like "sharp knife of time."
Posted 10/27/2021 10:34 PM
mmcguirk:
Thanks to those that have read or read+commented on the piece! I really appreciate the kind words and glad you enjoyed the poem.
Posted 10/27/2021 07:11 PM
Anastasia:
What a clever combination of words and shape! Also, as applicable to us as people as it is to rocks.
Posted 10/27/2021 03:21 PM
CamilleBalla:
What time can do with rock! What a poet can do with words and concrete shape. Thank you!
Posted 10/27/2021 02:15 PM
Cashbrook:
Love the poem and especially the shape
Posted 10/27/2021 11:11 AM
Lori Levy:
Love how the hard turns into the soft in this shape poem.
Posted 10/27/2021 11:03 AM
michael escoubas:
Wonderful poem, Matthew . . . nice job of creative typography which strengthens the overall effect. Congratulations!
Posted 10/27/2021 08:49 AM