They swing
on the tree like
golden bells; around
them, air ripens the
 color of bronze. Cool
smooth skin,
 impervious to touch.
Softening from the
 inside out, the opposite of the
stone fruits, peaches, apricots, plums.
 Their bottoms swell, hips swaying like
 maracas in the autumn breeze, the smoke's
blue haze.  Slip a thin knife into the skin;
 cut small wedges. This is the only way you
can eat the sun.  Unpicked, they'll crash
to the ground, oozing and liquid, whirl
 wasps into drunkenness, melt like
 early snow on the lawn.


From Small Rain (Purple Flag, 2014).
Used here with permission.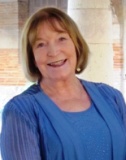 Barbara Crooker's award-winning poems have appeared in numerous magazines, journals, and anthologies and have been featured on the BBC, the ABC (Australian Broadcasting Company), The Writer's Almanac, and in the Poetry at Noon series at the Library of Congress. Recipient of many fellowships and residencies in the U.S., as well as in Ireland and France, she was also a Grammy finalist for her part in the audio version of the popular anthology, Grow Old Along with Me--the Best is Yet to Be. Barbara lives in Fogelsville, Pennsylvania; her latest book is Some Glad Morning, just released from the University of Pittsburgh Press. Learn more about Barbara at www.barbaracrooker.com.
Wilda Morris:
"This is the only way you can eat the sun." What a lovely poem - and so well shaped!
Posted 10/29/2021 11:08 AM
Lori Levy:
Beautifully done.
Posted 10/28/2021 11:26 PM
michael escoubas:
Nicely done, Barbara--the pear--one of my favorites--this poem reminds me of Wallace Stevens' "Study of Two Pears." However, Stevens' poem about pears is not as much fun as yours!
Posted 10/28/2021 09:42 AM
wordartdjc:
I so love the shape of the pear in the formation of this lovely poem. The pear, my deceased husband's favorite fruit is especially meaningful to me.
Posted 10/28/2021 09:35 AM
Larry Schug:
Astounding in every way! There are many poems within this poem.
Posted 10/28/2021 07:34 AM
Sharon Waller Knutson:
I am a big Barbara Crooker fan so I was thrilled to see her lovely poem in the shape of a pear. My favorite line was: Their bottoms swell, hips swaying like maracas in the autumn breeze, the smokes blue haze.
Posted 10/28/2021 05:43 AM