Here in the welcome shade
of this autumn evening,
in quiet communion with
the silent, smiling Buddha
seated before my koi pond,
as its bamboo source
echoes his mantra,
 
an aging Cooper's hawk
feathers lightly atop
the icon's stony head,
its talons gracing softly
the dome of Buddha's
mindfully unaware crown
as the colors of the day
wash the water-colored scene.
 
Wearing a mottled crest
above weathered wings,
my guest sees all but eyes nothing—
neither prey nor foe nor me—
simply staring in silence,
its head pivoting now and
then, again, in search of nothing more
than this timeless moment,
here in my simple shrine
to all that life should be.
 
In due time all of nature
sighs as one and my guest
rises with a single stir,
soaring softly on whatever
last zephyr graces the day,
leaving only a brief ripple
to etch the pond's reflection,
where only this memory remains.


© by Randy Cadenhead.
Used with the author's permission.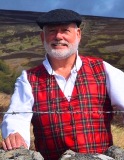 Randy Cadenhead is the author of a number of books of poetry and prose. Although he teaches at Emory Law School, you are more likely to find him sailing somewhere in search of the perfect sunset. Randy lives in Decatur, Georgia; learn more about him at www.randycadenhead.com.
Anastasia:
Thank you for this moment of calm in my hectic day, Randy!
Posted 11/04/2021 08:50 PM
Lori Levy:
Very peaceful scene.
Posted 11/04/2021 06:15 PM
CamilleBalla:
Thank you for sharing these captured moments with us. Some wonderful poetic phrases.
Posted 11/04/2021 12:58 PM
wordartdjc:
I agree with all of the comments. This poem gives a calming, 'world away' sense. It is just what we need today in this unhinged sort of universe. (Do you think it has always been so?) Now at ninety-three, I am believing it has always been. Thank you, Randy.
Posted 11/04/2021 10:46 AM
Sharon Waller Knutson:
I love this poem because it is so calming and picturesque. Even without the photo, I can see "the silent, smiling Buddha seated before my koi pond" and "an aging Coopers hawk... Wearing a mottled crest above weathered wings," land on the Buddha. Because the hawk doesn't make a sound or threaten anyone, I like that the scene remains serene and tranquil throughout the poem.
Posted 11/04/2021 10:16 AM
Larry Schug:
A serendipitous moment wonderfully, poetically, photographicallyrecorded
Posted 11/04/2021 09:44 AM
Michael:
Poetry born out of everyday experiences is the best kind of poetry. Nicely done, Randy, this poem strikes a resonate cord for all of us who appreciate "natural world" communion.
Posted 11/04/2021 09:14 AM
KateTompkins:
Beautiful!
Posted 11/04/2021 07:55 AM
Rob:
A lovely scene (and picture!)
Posted 11/04/2021 05:38 AM