I like to swing. Because I like to feel the wind I make. I like the wind. 
                                                       --Lauren, age 5

We move in rhythm with each other
and with the day, sluicing through fall weather.

I'm flying to Paris and apple
harvest in this almost-warm air.  The maple

beside us sends her red-gold children, thin
as tissue papers, off to where they've never been

before.  Lauren is happy just to be
here.  Legs and arms against the sun seem

pencils of light punched from a luminaria.
At intervals she wears a tiara

of burnished cloud.  She's become a seesaw board—
legs out, head back, child-shiny hair poured

into the wind she makes for herself.
I tip my head back too, will myself

to find the feeling of  "five" and wind-swinging.
All around us light          singing and singing.


This poem first appeared in Verse and Vision (May 2011).
Used here with permission.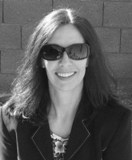 Paula Schulz has taught students in kindergarten, college, and a few grades in between. She lives and writes in Slinger, Wisconsin, with her husband, Greg.

Adriana:
such a beautifully crafted poem, to get into the experience of a child by actually doing what the child is doing, and then allowing us to experience it also - made me want to find the nearest swing (why aren't there swings for adults???)
Posted 11/29/2021 07:25 PM
Janet Leahy:
So much life in this poem, takes me back to the days of childhood and the Stevenson poem "The Swing". Love the line "find the feeling of five." Thanks Paula
Posted 11/06/2021 10:21 AM
Jo:
What a beautiful poem, Paula. So filled with the joy of childhood, all that spontaneity too.
Posted 11/06/2021 12:19 AM
Marpoem:
Love this poem! Was just swinging with my granddaughter over golden fields. Glorious!
Posted 11/05/2021 01:52 PM
Anastasia:
What a lovely feeling! Thank you for the reminder!
Posted 11/05/2021 01:03 PM
Sharon Waller Knutson:
This poem is delightful and picturesque with its many metaphors. I can see the Maple sending "her red-gold children, thin as tissue papers, off to where theyve never been," Lauren wearing "a tiara of burnished cloud" as she becomes "a seesaw boardlegs out, head back, child-shiny hair poured into the wind she makes for herself."
Posted 11/05/2021 12:41 PM
Gilbert Allen:
The enjambed rhymed couplets seem exactly right for this fine poem.
Posted 11/05/2021 09:48 AM
Lori Levy:
Beautiful images and language.
Posted 11/05/2021 09:48 AM
tiddles:
Such beautiful images, Paula: "pencils of light punched from a luminaria," "tiara of burnished cloud," "child-shiny hair." My granddaughter is 4 yrs. today. This is the perfect poem for my morning. Marilyn Z. Windau
Posted 11/05/2021 09:29 AM
wordartdjc:
Ah, all the lovely air. This poem truly captures the grand wonderment of flying in the air and of youth and the wonder of feelings of that free spirit. Fine work!
Posted 11/05/2021 08:40 AM
Michael:
Talk about bringing the reader into the experience of poetry . . . this poem succeeds!! Nicely done, Paula.
Posted 11/05/2021 08:30 AM
Larry Schug:
Ah, the gift of imagination!
Posted 11/05/2021 07:42 AM