Wearing flannel PJs,
wrapped in a blanket
while the cat sleeps,
I stare at the TV set,
laughing and cheering,
 
as the Road Runner,
nose pointed, tail fanned,
chased by Wile E. Coyote,
whizzes along winding
desert roads and canyon rims
 
muttering "Beep-beep!"
as the scraggly coyote
plunges to the floor
of the Red Rock Canyon.
 
Many years later, in
sports bra and shorts,
I stare at the window
of my home in the Arizona desert,
 
laughing and cheering
as the Road Runner,
unaware of his audience,
nose-pointed, tail fanned,
spying his reflection,
 
charges the glass repeatedly,
hour after hour, for a week,
fighting an imaginary Road Runner
he perceives as taking over his territory.
 
This time, Wile E. Coyote
sleeps in the hills above,
and it is the cat who slinks to the sill,
day after day, in his obsession
to catch the beautiful bird.
 
The cat licks his chops, flicks his tail,
and jumps at the window,
frustrated and humiliated
as the speedy Road Runner
whizzes across the property,
whipping a rattlesnake by the tail
and devouring it in one bite.
 
From Dancing with a Scorpion (Moon Journal Press).
Used here with permission.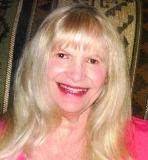 Sharon Waller Knutson lives in a house her husband, Albert, built out of clay from the land on a dirt road in the middle of a wildlife habitat and open range of the Arizona desert. A retired journalist, she writes poetry for readers who don't normally read poetry. In 2014, Sharon sold her chapbook, My Grandmother Smokes Chesterfields, to winter visitors from all over the world in a café where her husband played guitar and sang country music. Her customers told her they expected her to publish a new poetry book when they returned each year so, in 2015, she published Desert Directions, about her life in the desert. In 2016, she published They Affectionately Call Her a Dinosaur, poems about her customers and other seniors in her life who started new careers, businesses, and relationships after they retired. In 2017, she published I Did it Anyway, poems about how she broke the glass ceiling in the newspaper business in the '60s and '70s, when women were typically relegated to the society pages. Sharon's first full-length collection, What the Clairvoyant Doesn't Say, was released this summer. Meanwhile, she and Albert (who retired from his music gig in 2019) stay busy raising assorted critters and enjoying their 11 grandchildren and 6 great-grandchildren..Learn more about Sharon here.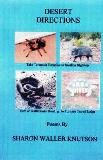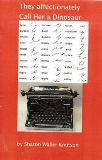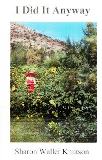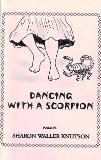 mszlyk:
Loved reading your poem, Sharon. :) I remember when our cats used to stand up on their hind legs and try to hunt birds on the other side of the window.
Posted 01/01/2022 10:02 PM
Lori Levy:
Like the contrast between your childhood years and your later years regarding the Road Runner.
Posted 11/06/2021 03:08 PM
Anastasia:
What fun! Thank you!
Posted 11/06/2021 01:14 PM
joecot:
Beep-beep!
Posted 11/06/2021 12:07 PM
peninsulapoet:
Always a pleasure to read Sharon's poems.
Posted 11/06/2021 10:23 AM
KateTompkins:
Love it.
Posted 11/06/2021 09:34 AM
Larry Schug:
What a cool story of your desert home, Sharon, but it is also a biology lesson as well as a reflection (pardon the pun--I had to say it it!)in the metaphor of encountering oneself.
Posted 11/06/2021 08:02 AM