first time leaving home on a field trip
they are all so excited
you can see patches of red and yellow
on their little faces

not in a bit of a hurry
they are playing around
chasing each other in the wind
whistling loudly


© by William Marr.
Used with the authorís permission.
†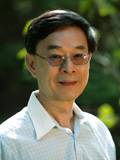 William Marr came to America from Taiwan in 1961. After receiving his master's degree in mechanical engineering and his PhD degree in nuclear engineering, he worked in the area of energy research at Argonne National Laboratory in Chicago for 27 years before retiring in 1996 to focus on his true passions — poetry and art. A former president of the Illinois State Poetry Society, William has published two books of essays, several books of poetry translations, and 23 volumes of poetry. His poetry has been translated into more than ten languages and appears in high school and college textbooks in Taiwan, China, England, and Germany. In 2018, William received the lifetime achievement award from the International Board of Examiners of Edizioni Universum and the Albert Nelson Marquis Lifetime Achievement Award from the Marquis Who's Who Publications Board. In 2019, he received the 60th Literary Award from Taiwan's Chinese Literature and Art Association. William lives with his wife, Jane, in a suburb of Chicago, Illinois. Learn more about him here.
Jo:
thank you Bill. Always the consummate word smith conveying so much with so few words.
Posted 11/17/2021 12:18 AM
paradea:
I like personification! Good poem!!
Posted 11/16/2021 05:26 PM
ladybug:
Nicely done, Bill. You have painted a vivid picture of fall. Susan T. Moss
Posted 11/16/2021 11:24 AM
Cathyís Sister:
Lovely!
Posted 11/16/2021 11:22 AM
Lori Levy:
Great job of personification.
Posted 11/16/2021 10:15 AM
Sharon Waller Knutson:
I love this sparse delightful poem and how he personifies autumn leaves. I can see little children "with patches of red and yellow on their little faces" chasing each other and whistling.
Posted 11/16/2021 09:20 AM
cork:
I love the personification!
Posted 11/16/2021 09:17 AM
Larry Schug:
Less is more.
Posted 11/16/2021 09:12 AM
tiddles:
Terrific1
Posted 11/16/2021 08:32 AM
Michael:
Thank you, Mr. Marr, for capturing so much joy of life in so few words.
Posted 11/16/2021 08:19 AM