Our twilight month November is,
The evening of the year.
The brilliant summer noontide left
A pallor soft and clear.
Dame Winter brings with quiet grace
Her curtains all of snow,
And pins them deftly into place
With boughs of mistletoe.


From Little Poems, (Braunworth, Munn & Barber,1900).
This poem is believed to be in the public domain.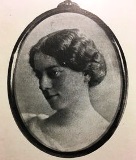 Ruby Archer (1873 – 1961) was born and raised in Kansas City, Missouri. She wrote a number of poems during her lifetime, many of them collected in her book, Little Poems. She also wrote articles on a number of different subjects and translated French and German lyrics and plays.
paradea:
Lovely!
Posted 11/17/2021 12:57 PM
DavidTookey:
What a beautiful ending!
Posted 11/17/2021 10:50 AM
wordartdjc:
We can see that a great deal of fine poetry is printed here. Ruby was a fine poet!
Posted 11/17/2021 10:25 AM
Michael:
So much said . . . picture painted with words; simplicity: poetry empowered.
Posted 11/17/2021 08:54 AM
forrsher2:
Wonderful, concise description of the month of November!
Posted 11/17/2021 08:39 AM
Darrell Arnold:
Wow. Short, simple, brilliant rhymes with a beautiful message. I so admire this kind of writing. I can't quite do it.
Posted 11/17/2021 08:15 AM