Contrary to what my neighbor believes,
There are a number of things you can do with dry leaves.
On the tree, they're so pretty. Oh, how you admire them.
You love their beauty. Collectors desire them.

What can you do with those leaves on the ground?
Once they have fallen, your choices abound.
Adore them, abhor them, or simply ignore them.
Don't love them? Then shove them, and see no more of them.

For some it's a time to closely inspect them —
Find pretty and big ones and start to collect them.
Some you will save and press and protect them.
Most you will leave. You have to reject them.

Lay in them, play in them — fun for a while,
Or pile and style them. Make yourself smile.
Shuck them, and truck them, turn them, and spurn them.
Carry them, bury them. Some people burn them.

Leaf-blower blow them, then lawn-mower mow them.
Find them and grind them, and leave none behind them.
Shag them, and drag them, and gather, and bag them.
Compost and mulch them, or throw in a gulch them.

Batter and break them, scatter and shake them.
Shovel and rake them, forget and forsake them.
Pound them, and punch them, and stack (a whole bunch) them.
Hump, lump, and clump them, then load them and dump them.

Shovel and sweep them. You don't have to keep them.
So dig a big hole and then bury, so deep, them.
Bundle and bunch them. Crinkle and crunch them.
You don't want to munch nor consider for lunch them.

Behold all the gold, and to the wind lift them.
Praise them, and raise them, and then set adrift them.
Despite all the limits my neighbor perceives,
There are so many things one can do with dry leaves.


© by Darrell Arnold.
Used here with the author's permission.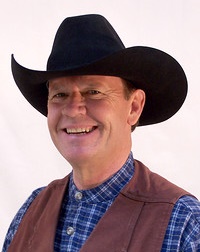 Darrell Arnold has been writing poetry for more than forty years. He was an associate editor at Western Horseman magazine for five years, then launched his own publication, Cowboy Magazine, which ran for nearly eighteen years. Poetry, primarily cowboy poetry, was an integral part of both publications. In the early '90s, Darrell started turning his poetry into songs and has now had more than 20 poems recorded by various western singers; two of them have earned song-of-the-year" awards from Western Writers of America and the Western Music Association. Darrell continues to write poetry and has extended an open invitation to cowboy singers everywhere to team up with him to make more memorable songs. For details and special pricing on his books, contact him at P. O. Box 3097, Colorado City, AZ 86021.
Jo:
Im glad Jayne didnt leaf you out either. what a playful poem, delightful poem. Your words mimic the behavior of the leaves No small feat.
Posted 11/20/2021 05:50 PM
Darrell Arnold:
I am so grateful that Jayne did not "leaf" me out of her leaves poems. This woman is a blessing to all of us, contributors and readers alike.
Posted 11/20/2021 12:02 PM
Lori Levy:
Like the humor and word play in this poem.
Posted 11/20/2021 12:00 PM
RonPoems:
I love the nternal rhyming. It pulls the reader through your poem.
Posted 11/20/2021 11:59 AM
Glen Sorestad:
Cork is right, the poem literally dances right off the page! What a feast of sound, too! Good job, Darrell.
Posted 11/20/2021 11:27 AM
cork:
I almost started dancing as the rhythms of your poem invaded, and I wanted to lie in those piles.
Posted 11/20/2021 10:03 AM
KevinArnold:
This could go into the Big Book of Mangled-syntax Pennsylvania Dutch Rhymes: You dont want to munch nor consider for lunch them. Great fun.
Posted 11/20/2021 09:26 AM
Darrell Arnold:
Larry's right. I worked in the yard all day long and rhymes kept popping into my head. I quickly scribbled them down in my always-in-my-pocket notebook and rushed to the computer every time I had a chance to get it typed in. No serious hidden messages about life here. Just fun, fun, fun with words. I, as much as Jayne and all her readers, love words. Writing poetry, even if it is just for myself, is fun.
Posted 11/20/2021 09:12 AM
pwax:
Love it!
Posted 11/20/2021 08:59 AM
KinVT:
Fun way to begin the day. Thank you for sharing!
Posted 11/20/2021 08:48 AM
Larry Schug:
Outstanding! I 'll bet this was a fun poem to write. It flows so naturally and it and I bet your pen probably had a hard time keeping up with the words as they came to you.
Posted 11/20/2021 08:15 AM