The ten hours' light is abating,
And a late bird wings across,
Where the pines, like waltzers waiting,
Give their black heads a toss.

Beech leaves, that yellow the noon-time,
Float past like specks in the eye;
I set every tree in my June time,
And now they obscure the sky.

And the children who ramble through here
Conceive that there never has been
A time when no tall trees grew here,
A time when none will be seen.


This poem is in the public domain.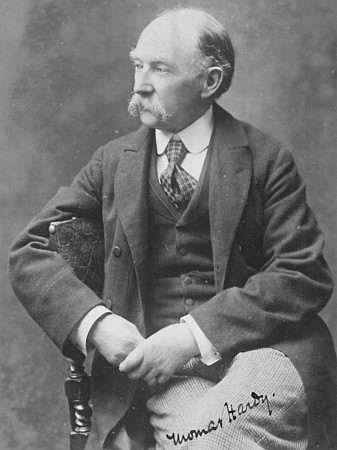 Thomas Hardy (1840 - 1928) was an English writer who always considered himself a poet, although during his lifetime, his notoriety came from his novels. Even today, his novels (Tess of the d'Urbervilles, Far from the Madding Crowd, and Jude the Obscure, for example) are far better known than his poems. Thomas trained and worked as an architect before turning to writing; his attention to detail and his love of the natural world are obvious in his works' lush descriptions of England's country settings. Thomas left behind a huge and fascinating body of work, including poetry collections, novels, short stories, and plays.
paradea:
Love this!!!
Posted 11/19/2021 10:12 PM
KevinArnold:
The ending makes the poem.
Posted 11/19/2021 10:09 AM
Gilbert Allen:
Those final two lines are haunting indeed.
Posted 11/19/2021 09:54 AM
MLove:
I love that he planted the trees in his "June time" and now they obscure the sky.
Posted 11/19/2021 08:51 AM
Darrell Arnold:
One of the things I appreciate most about the English poets of the past is their "attention to detail," which has been noted above. Times may have been more difficult, then, but the people who read and write did not have the distractions of television, computers, and social media. They took advantage of their available time by polishing, polishing, polishing their work. I love it.
Posted 11/19/2021 08:06 AM