Do not squander this day.
Make every moment a marker
on your marathon toward kindness.
†
Ride the wings of wonder.
Surf waves of sorrow
same as joy.
†
Open the floodgates of gratitude.
Fan the flames of your faith so high
that bowing your head in humility
†
for the gift of life is
the only motion that matters,
now and forevermore.


© by Arlene Gay Levine.
Used with the authorís permission.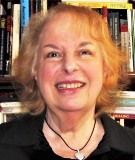 Arlene Gay Levine is an award-winning poet, author, and educator who lives with her husband in New York City. Her prose and poetry have been published in The New York Times, more than 30 anthologies, and in numerous literary journals. Arlene is the author of 39 Ways to Open Your Heart: An Illuminated Meditation (Conari Press,) and Movie Life (Finishing Line Press). Learn more about her at http://www.arlenegaylevine.com.
Jancan:
This is an uplifting, beautiful piece!
Posted 11/22/2021 10:18 PM
JaneBeverley :
Lovely. This is going up on my booth wall, and how I will begin every day.
Posted 11/22/2021 11:01 AM
paradea:
Beautiful!!! Love this poem!
Posted 11/22/2021 10:06 AM
KevinArnold:
Oh, my. Yes. Thanks.
Posted 11/22/2021 08:42 AM
Lori Levy:
Beautiful prayer/poem.
Posted 11/22/2021 08:13 AM