I am not jerky.
I am turkey.

Gobble, Gobble, Gobble, Gobble

Iíve come here to squabble
because Iím tired of being roasted
instead of toasted each Thanksgiving
when Iím forced to give up living
to sit on dining room tables
suffering all those labels
like what a beautiful bird
and others youíve probably heard.

Gobble, Gobble, Gobble, Gobble

I want to live and wobble
with the hens through the trees,
do as I darn well please instead of
dealing with cranberry sauce
as if I were the boss, or with pumpkin pies
Iíve learned to despise, and sweet potatoes
with marshmallows on top.
It all must stop, it really must stop!
And so

Gobble, Gobble, Gobble, Gobble

I suggest in my place
you all learn to digest
some lamb, some ham,
or even some SPAM.
Thanksgiving should be
turkey-free,
donít you see?


© by C.F. Kelly.
Used with the author's permission.
†

†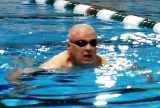 Cornelius Farrell Kelly lives in Pinedale, Wyoming, with his wife of 62 years, in a house they built with the help of their ten children at an altitude of 7300 feet above sea level. The author of eight chapbooks and two published books, he writes a rhyming couplet every morning and posts it on his Facebook page. Cork is a competitive senior swimmer (he says he frequently gets ideas for a poem while swimming) and this October, he participated in the Huntsman World Senior Games.
Adriana:
A deadly serious message in a light and charming form. Having lived turkey-free (except for occasional tofurkey-tofu turkey) for over forty years, I dream of a vegan world where we "toast instead of roast" our fellow creatures who wish and deserve to live as much as we do.
Posted 11/24/2021 11:22 PM
MLove:
What a fun poem! I think we should all memorize it and recite it around the table - after we give thanks for all of our blessings and before we dig into the feast!
Posted 11/23/2021 12:39 PM
paradea:
Neat!!!
Posted 11/23/2021 10:22 AM
Sharon Waller Knutson:
I read Gobble, Gobble, Gobble, Gobble to my two year old grandson and like me he found it delightful. He clapped and laughed. Ever since we took him to the turkey farm, his favorite word is gobble.
Posted 11/23/2021 09:59 AM
Lori Levy:
Unique to hear the turkeys perspective and with humor.
Posted 11/23/2021 09:59 AM
Larry Schug:
Just remember, Mr. or Ms. Turkey that you will soon be eaten by poets and that you will become the fodder of rhyme. It could be a worse fate than to be reincarnated as a poem, I think. I whole heartedly agree with Darrell's comments, especially the reference to Suess. This poem should become a Thanksgiving classic!
Posted 11/23/2021 08:56 AM
Darrell Arnold:
Suessian, funny, original, unexpected rhymes in unexpected places. I like it. And I love the big bird on Thanksgiving Day. Sorry Mr. Gobbler.
Posted 11/23/2021 08:18 AM