A beggar in the street I saw,
Who held a hand like withered claw,
As cold as clay;
But as I had no silver groat
To give, I buttoned up my coat
And turned away.

And then I watched a working wife
Who bore the bitter load of life
With lagging limb;
A penny from her purse she took,
And with sweet pity in her look
Gave it to him.

Anon I spied a shabby dame
Who fed six sparrows as they came
In famished flight;
She was so poor and frail and old,
Yet crumbs of her last crust she doled
With pure delight.

Then sudden in my heart was born
For my sleek self a savage scorn,--
Urge to atone;
So when a starving cur I saw
I bandaged up its bleeding paw
And bought a bone.

For God knows it is good to give;
We may not have so long to live,
So if we can,
Let's do each day a kindly deed,
And stretch a hand to those in need,
Bird, beast or man.


This poem is in the public domain.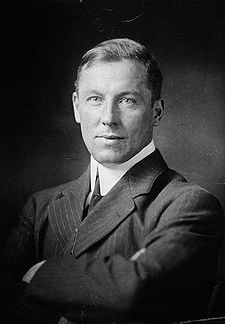 Robert Service (1874 - 1958) was a Scottish poet who became smitten with the Yukon Territory when he moved to Canada at the age of 21. Though he longed to be a trail-blazing cowboy, and many thought he indeed lived the life of which he wrote, Robert was, in fact, a bank clerk. After wandering North America for several years, working at odd jobs and various bank branches, he finally settled down in Dawson City, Yukon, some time after the Gold Rush. Robert began writing poems about his stark and beautiful surroundings, and about the legends and lifestyle associated with that part of the world. When his collection of poetry, The Spell of the Yukon and Other Verses, was published in 1907, it was an immediate success, made Robert wealthy beyond his greatest expectations, and earned him the nickname "The Bard of the Yukon." Robert alternated living in North America and Europe for the remainder of his life--even spending a few years in Hollywood; the cabin in the Klondike where he made his home is now a Canadian national park site.
Jancan:
This is a great poem--skillfully written, expressive, and moving. Thanks for posting it!
Posted 11/30/2021 05:09 PM
Janet Leahy:
A wonderful poem for today and really for any day, just to remind us to share our blessings.
Posted 11/30/2021 03:33 PM
paradea:
I love this poem!!
Posted 11/30/2021 10:19 AM
KevinArnold:
Fun, and timely. If youve been blessed, a great day for blessing others.
Posted 11/30/2021 09:57 AM
Lori Levy:
Yes!
Posted 11/30/2021 09:41 AM
Michael:
Wonderful poem that shares what we have always known, but in words fresh and beautiful.
Posted 11/30/2021 08:43 AM
Darrell Arnold:
"The Cremation of Sam McGee" was recited in English class by a schoolmate when we were in the tenth grade. I fell in love with the writing of poetry at that moment. Service had an incredible talent, and I read THE SPELL OF THE YUKON. I wanted to do what he did, and I've been aiming at it ever since. I don't remember reading "Compassion," but I sincerely believe in what it teaches. I try to extend kindness to all, man and beast alike, on a daily basis. Thanks for publishing these wise words.
Posted 11/30/2021 08:35 AM