On the wings of a fall wind
trees release the influence of spring
and the abundant canopy of summer

Leaves drop, tossing about
in a torrent of crackling frenzy
scooting across the flight decks of driveways
parking lots and streets

The only accent to this rapid, hypnotic pace
mesmerizing in its lack of detail
is a hard thud
as acorns hit the deck
like bullets shot from a tree

When it rains
a spirit of murky wetness ensues
leaves cling to each other   
unable to pull themselves apart
from their newfound intimacy

This soggy brew of reduction
begins to rot into the earth
becoming a fine cuisine for the worms

The cycle repeats itself
again and again
until every leaf has fallen
leaving a deciduous pile shielding the land
against the angst of winter


This poem first appeared in This 'n That (2020).
Used here with permission.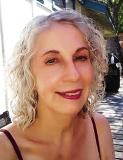 Shirley Radcliff Bruton says her poetry arrived "circuitously," first appearing in performance art pieces in New York and California, then as parts of a script revealing moods, intentions and emotions. "I didn't know they were poems then," she admits. "Now I see my writing as a kind of investigation that offers greater insight into life and who I am in it." Shirley, who lives in a rural area of California's central coast, is the co-author of This 'n That, a collection of poetry, and Tales From a Rocky Coast, Vol. 1, an anthology of diverse voices. Forthcoming in 2021 are two new books—Jake, for young adult readers, and Z, for children five and up—plus a performance chapbook, Quiet Spaces. Learn more about Shirley here.
Jancan:
Excellent, expressive use of personification and metaphor!
Posted 12/03/2021 05:33 PM
Adriana:
Love the second verse "scooting across the flight decks..."
Posted 12/01/2021 04:39 PM
Lori Levy:
Beautiful images.
Posted 12/01/2021 12:49 PM
Larry Schug:
I like the idea of the "new found intimacy" of leaves drenched by rain, working as an agent of decomposition.
Posted 12/01/2021 08:28 AM