I was six when,
in dance class,
I learned the
basic positions
of life, dance, and
decorum.
 
She taught us the story
of Haydn's surprise
symphony, the needling
of the dozing royalty,
the priming of the
subsequent
aural jitters
 
But the most valuable
lesson: three steps
forward
one step
back
 
And the ease
with which we mastered it,
preparing us for
love, loss, and
all the
in-betweens


© by Katrin Talbot.
Used with the author's permission.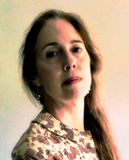 Photo credit: Isabel Karp
Australian-born Katrin Talbot is a violist, freelance photographer, and poet. Her most recent collection is Attached: Poetry of Suffir. Katrin's work has appeared in many literary journals and anthologies and she is the author of five other chapbooks. Katrin leaves in the Madison, Wisconsin area, with quite a few chickens. Learn more about her at https://www.katrintalbot.com/.
Anastasia:
And the occasional side-step as needed!
Posted 12/10/2021 11:25 AM
Jancan:
This delightful poem conveys a powerful message about how dance classes may teach more than dance steps.
Posted 12/08/2021 05:18 PM
marywehner:
Wow, Katrin, this is amazing. Beautifully done--graceful and yes, elegant. Mary Wehner
Posted 12/07/2021 11:58 AM
peggy.turnbull:
Elegantly done, with a life lesson of value.
Posted 12/07/2021 10:01 AM
Shoshauna Shy:
Ah, you done it again,. Katrin! Kudos, wise lady!
Posted 12/07/2021 09:44 AM
joan:
loveit!!!! one step forward, two steps back insightful
Posted 12/07/2021 09:10 AM
Lori Levy:
I agree, sparse, but insightful and well expressed.
Posted 12/07/2021 08:54 AM
Larry Schug:
A lesson well worth re-learning as we go through life, gently presented in a sparse, well-written poem.
Posted 12/07/2021 07:27 AM
VodVonDetta:
Lovely poem Katrin. Reminds me of my last three wives! Love is lost, but you can always take a step back.
Posted 12/07/2021 05:27 AM
Sharon Waller Knutson:
Warm and wise, this sparse poem tells us in one stanza the secret to life the speaker learned at the age of six:three steps forward one step back
Posted 12/07/2021 05:08 AM