Silky bristles
Of cirrus clouds
Dipped in sunset pink
Brush a moon
Plump with autumn,
Trying in vain
To apply rouge,
To create a blush
On chill, blue features
And so ruffle
Her chill, blue
Composure.


© by Robert Walton.
Used here with the authorís permission.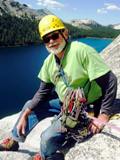 Robert Walton is a retired middle school teacher and a lifelong rock climber with many ascents in the Sierras and Pinnacles National Park. His publishing credits include works of science fiction, fantasy, and poetry. Robert's historical novel, Dawn Drums, won the Tony Hillerman Prize for best fiction in the 2014 New Mexico Book Awards. Most recently, his book, Joaquin's Gold, was published as a paperback and a Kindle eBook. It offers fictional adventures about the famous California bandit, Joaquin Murrieta. Learn more about Robert at http://chaosgatebook.wordpress.com/.
Anastasia:
Lovely images!
Posted 12/08/2021 01:15 PM
Michael:
Painters write poems without words; poets paint pictures with words, (da Vinci). You are stepping in high cotton with this poem, Robert!
Posted 12/08/2021 10:27 AM
Lori Levy:
Yes, like a beautiful painting.
Posted 12/08/2021 09:55 AM
Larry Schug:
A very fine poem, a word painting, a meditation, almost a prayer. I admire the sparseness of the words creating a huge image.
Posted 12/08/2021 08:08 AM
Sharon Waller Knutson:
I love this well crafted, photographic, sensuous poem. I can see the clouds brush the face of a woman, applying rouge to her face blue in the chilly air thanks to the use of metaphors, personification and bold imagery. Unique and creative.
Posted 12/08/2021 07:54 AM
paula:
great description
Posted 12/08/2021 05:25 AM