It is a morning
of dreeping* hedges
and
the days are creeping
towards
that sacred event.

Crows
seem curmudgeonly
near mottled chimneys
and
a wisp of smoke
rises
bravely
in the woods.

The clouds hang low
over Rossbeigh and Inch**
though
a yellow eye
of light
peers nervously
nonetheless.

Give us faith, Creator,
in these uncertain times.
Reinforce
that child-lingering belief
that
we can awaken
to a brighter day
when
light                                                                                                                                                                                     
touches the world
like
a simple blessing
and morning
winkles
a sparkling wonder
from dark furrows
of clay.
© by Gerard Coughlan.
Used here with the author's permission.
*Irish word for drooping
**2 of Ireland's most beautiful beaches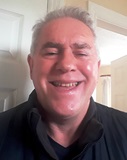 Gerard Coughlan lives in Cork City, Ireland. He has always loved poetry as an art form and has written all his life. Gerard says his chosen themes are many and varied, but he strives to include the magnificence of nature in many of his works, "even when it involves family relationships, dreadful urban planning, or the myopia which seems to plague so many of our politicians." Gerard's work has been featured in journals and on the radio; his influences have been Philip Larkin, Patrick Kavanagh, Gerard Manley Hopkins, Eavan Boland, and John Betjeman, among others.
Anastasia:
"light / touches the world / like / a simple blessing" - this is such a lovely and powerful image!
Posted 12/10/2021 11:19 AM
Janet Leahy:
I especially love the last stanza, it is a prayer of hope, thank you Gerard. I will put this up where I can reread it each day.
Posted 12/09/2021 10:49 PM
Jancan:
Oh, to see the world again through the eyes of child! Lovely, moving poem.
Posted 12/09/2021 05:23 PM
paradea:
I like this poem.
Posted 12/09/2021 10:23 AM
RonPoems:
I Love the language, especially child-lingering belief.
Posted 12/09/2021 09:15 AM
cork:
Slinte!
Posted 12/09/2021 08:58 AM
Lori Levy:
Beautiful language.
Posted 12/09/2021 08:19 AM
Larry Schug:
A prayer inside a poem..
Posted 12/09/2021 07:28 AM