Does it bring you joy? Marie Kondo* asks.
†
To keep itchy wool sweaters,
wedding gifts from my first marriage,
greeting cards from people who may be dead
since we last spoke, forty years ago.
†
Does it bring me joy?
†
To hunt through ten knives
for one slotted spoon?
†
To spend ten minutes
searching for a blouse
hidden inside another?
†
The answer is obvious.
The solution not as easy
as Marie Kondo suggests.
†
How do I thank
the frosted glass platter
for the two times it was useful
and let go of the fear
I might need it one more time?
†
Does it bring me joy?
†
To box up my past
and carry it out of the clutter
Iíve hoarded for years?


© by Jacqueline Jules.
Used here with the authorís permission.

*A consultant and author of several books about organizing and decluttering
†
†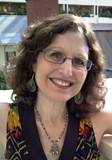 Jacqueline Jules is a former librarian who found herself intrigued by almost every book she put on the shelf. As a reader and as a writer, she doesn't restrict herself to one genre. A resident of Virginia, Jacqueline is the author of 40 books for young readers on a wide variety of topics. Her poetry has appeared in more than 100 publications, including three chapbooks: Field Trip to the Museum (Finishing Line Press), Stronger Than Cleopatra (ELJ Publications), and the award-winning Itzhak Perlman's Broken String (Evening Street Press). Learn more about Jacqueline at www.jacquelinejules.com.
Anastasia:
I find great joy in letting things goit's a psychological relief. If there's too much stuff in my space, it's hard for me to function, so I keep everything in cabinets. My husband is one of those "out of sight, out of mind" people, so he needs everything where he can see it. It's never dull at our house!
Posted 12/13/2021 02:18 PM
Lori Levy:
Great poetic response to Marie Kondo.
Posted 12/10/2021 08:39 PM
Janet Leahy:
Yes it all brings me joy . . . but I must give some of the joy away, maybe next week of next month.
Posted 12/10/2021 10:00 AM