In these gifts of days
when season's temper softens,
we count treasures, and find
amidst the scatterings
the adamantine diamonds
that are friends and kinfolk.
From Scattershot (Mina Helwig, 2010).
Used here with permission.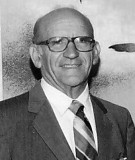 Edward Hujsak (1925 - 2018) was born in New Hampshire to a Polish farming family. A chemical engineering graduate of the University of New Hampshire, Ed worked on propulsion systems at General Dynamics during development of the Atlas and Centaur rockets. He was propulsion engineer on John Glenn's famous orbital flight and served as chief of preliminary design at General Dynamics Astronautics Division for ten years, accumulating more than a dozen patents in the aerospace field. In addition to his numerous engineering achievements, Ed was a writer, artist, sculptor, and builder of furniture and musical instruments. In his spare time, Ed made more than 2000 wooden birds, dogs, and race cars for the San Diego Fine Woodworkers Association, which distributes toys to sick and needy children.
Anastasia:
A lovely and compact poem! And what a busy manI feel like such a slacker!
Posted 12/13/2021 03:48 PM
DELINDMAN:
Moving and inspiring. During the grey, dark days of January and February I will try to remember the resurrected thoughts of December. Great.
Posted 12/12/2021 11:22 AM
Tracers645:
Beautiful imagery. 🎄
Posted 12/12/2021 10:56 AM
Michael:
Great economy of language and just the right touch of inserting this new word (to many of us); quite well done . . . excellent post, Jayne.
Posted 12/12/2021 09:20 AM
forrsher2:
Deeper than the length suggests.
Posted 12/12/2021 08:49 AM
r1manchester:
A nice little poem Ed, good going!
Posted 12/12/2021 07:06 AM