I sat with chill December
   Beside the evening fire.
"And what do you remember,"
   I ventured to inquire,
"Of seasons long forsaken?"
   He answered in amaze,
"My age you have mistaken:
   I've lived but thirty days."


This poem is in the public domain.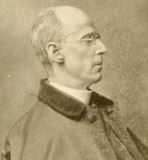 John Banister Tabb (1845 –1909) was a poet, priest, and college professor. Born in Virginia to a wealthy and well-respected family, he was plagued with vision problems from an early age and, eventually, lost his sight completely. In his teens, John was a Confederate blockade runner during the Civil War; he ended up spending eight months in a Union prison. He became a member of the Catholic church in 1872, took a position teaching Greek and English a few years later and, ultimately, was ordained as a Roman Catholic priest just before he turned 40.
albin:
Curious ending and noteworthy information density.
Posted 12/13/2021 05:27 PM
Anastasia:
An amusing poem. and what a life of the poet!
Posted 12/13/2021 03:42 PM
Sharon Waller Knutson:
A former journalist, I relate to this sparse charming creative poem. I also love the personification and the rhyme.
Posted 12/13/2021 09:46 AM
Larry Schug:
Clever.
Posted 12/13/2021 07:55 AM
KevinArnold:
Unique.
Posted 12/13/2021 05:53 AM