Snow took Brooklyn
And turned the manufactured streets
Into a hand-knitted O. Henry town
Where, without electricity or battery-powered pastimes,
My dreams replaced congestion with distance, and distortion with silence
I conjured wood stoves in place of radiators
And a forest where there was an empty lot
Avenues became unpaved roads beneath the crunchy frost
In the grey white afternoon, I peered into display windows
Imagining I'd be greeted by potbellied shopkeepers
With handlebar moustaches and gold pocket watches
Then trudging home knee-deep in glistening powder
I longed to trade my ski jacket, red rubber galoshes, and corduroy pants
For leggings and high-button shoes under thick skirt layers
To feel the winter the way they once did
In the days before fallout shelters and TV dinners
At twilight I went searching for a porch illuminated by a single gas lantern
Dreaming of a house with a parlor
Where I could stand in front of the fireplace
Melted snowflakes rolling down my face
Tingling fingertips pressed against a hot cup of chocolate


© by Siobhán Barry-Bratcher
Used with the author's permission.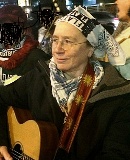 Born in Brooklyn, New York in 1954, Siobhán Barry-Bratcher writes about everything because she believes there are no boring subjects. Irish figure skaters, city dwelling possums, Jerry Garcia's artwork, recalcitrant old houses, and mornings in small towns are just a few of the topics she has covered in her poetry, prose, articles, and screenplays. Siobhán is the author of two books, Brushstrokes: A Work In Progress, a memoir about growing up in Brooklyn, and Golden, a young adult historical novel set in the late 1960s. She formerly co-hosted a spoken word series at the DeBaun Center for the Performing Arts on the campus of Stevens Institute of Technology in Hoboken, New Jersey. Siobhán also plays bluegrass guitar and the Appalachian dulcimer. She lives in Hudson County, New Jersey.
Anastasia:
Imagining alternate lives can be such fun! You've captured it quite nicely here.
Posted 12/20/2021 12:35 PM
IngridBruck:
Lovely - this whole piece is hand knitted!
Posted 12/20/2021 10:32 AM
Lori Levy:
Beautiful scene.
Posted 12/19/2021 10:15 PM
richard.cary@att.net:
This is wonderful words. Nice to see a poet come along in the morning.
Posted 12/19/2021 11:01 AM
cork:
Slainte!
Posted 12/19/2021 10:26 AM
Siobhan Barry-Bratcher:
Thank you all for your kind comments. And Darrell Arnold, I'll be right over--with the guitar! Just give me about fifteen minutes before you start perkin' the coffee...
Posted 12/19/2021 09:13 AM
Stephen Anderson:
Winter can leave a magical imprint on our imagination, joyful not always worrisome. Here in this poem you have captured that magic, Siobhan.
Posted 12/19/2021 08:30 AM
Darrell Arnold:
Much of Siobhn's imagery is still common in many rural towns in the Great American West. In my house we heat with wood, both in a wood stove and in a fireplace. We have unpaved streets and see by the light of kerosene lanterns when the power goes out. Bluegrass, old-time country, and cowboy music fill our listening hours, though the ingenuity of man allows us to hear it now via satellite on our televisions. This morning, I walked my dogs down a graveyard-quiet, snow-covered street. The only sounds were the ones we made, and the only light we had was a grand, full moon lighting up the high cliffs surrounding our town. I love her poem. It has caused me to count my blessings.
Posted 12/19/2021 08:18 AM
Michael:
"No boring subjects," more than a mere cliche . . . today's poem makes the mundane vibrant with imaginative life. Thank you, Siobhan!
Posted 12/19/2021 08:17 AM
therealtoni:
Nice and so sweet with nostalgia
Posted 12/19/2021 05:08 AM