From my second floor kitchen,
I would sit on a high stool,
looking out our wide window
watching people pass by
on their way
to the post office next door,
the butcher shop,
or Mullerís Drug Store
on the corner.
There was the smell of diesel
from the buses,
sounds of honking horns,
the slam of the post office
truckís door,
and a constant parade of cars.

When it snowed late in the night,
traffic slowed to just a few cars.
The island that separated
north and south bound traffic
had tall, silver lampposts
shining their light on the slant
of the lusty falling flakes.
Then, I could see this was how
it should be, sacred and holy;
the busy boulevard turning
into another world, white as clouds,
hiding grime below its blanket of snow.


From Why I Miss New Jersey (Everhart Press, 2013).
Used here with permission.
†
†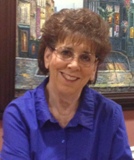 Barbara Eknoian lives in La Mirada, California with her extended family, daughter, son, and grandchildren. She is the author of four novels, two poetry books, and a collection of short stories--most of which offer entertaining details about growing up New Jersey. Barbara has attended Donna Hilbert's poetry workshop in Long Beach since its inception, and her fellow workshop poets are like family.
BAMars:
Beautiful, Barbara, and perfect for this time of year. I love the ending.
Posted 12/20/2021 11:00 PM
Jancan:
Lovely, appealing scene--vividly descriptive
Posted 12/20/2021 09:34 PM
Anastasia:
What a wonderful word-painting of this scene!
Posted 12/20/2021 12:32 PM
Lori Levy:
Beautiful.
Posted 12/20/2021 11:23 AM
richard.cary@att.net:
Yes!!!
Posted 12/20/2021 10:47 AM
KevinArnold:
Fun. Nostalgia about NJ from California.
Posted 12/20/2021 10:04 AM
peninsulapoet:
I love this poem of Barbara's. Buy one of her books for someone for Christmas.
Posted 12/20/2021 09:49 AM
KateTompkins:
Charming.
Posted 12/20/2021 08:45 AM
Michael:
Enjoyed the entire poem, Barbara, especially "lusty falling flakes." Great capture of a dream-like setting.
Posted 12/20/2021 08:34 AM
Sharon Waller Knutson:
I enjoyed this nostalgic photographic poem, "Snowfall in the City" because it reminds me of growing up in small towns in Montana and Idaho and living in downtown Toronto in my thirties. I currently live in Arizona but am staying in Idaho in the country where we have six inches of snow on the ground.
Posted 12/20/2021 07:28 AM
therealtoni:
memories sparked by this poem of my own street!
Posted 12/20/2021 05:06 AM