That first winter in Vermont,
how dark and quiet the streets were
in the small town. How unkind.
Winding off without sidewalks
into desolate fields of snow, coyotes wailing
just beyond the widow's lonely backyard grave.
One night, cloaked in solitude like a traveler
from another land, I followed one small sidewalk
through the town center, past the general store,
the toy shop, the B and B,
sliding my boots into the crisp footprints of others,
past houses with sleeping children
tucked behind closed doors
like angels in an advent calendar
until I came to a church lit up in the night,
a creche of painted figures beckoning.
Mary's face beneath the blue veil was so inviting.
I stood there along with the shepherds
for nearly a half hour, watching
the baby with arms outstretched
as if to receive my winter prayer.


© by Kristin D'Agostino.
Used with the author's permission.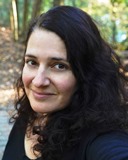 Kristin D'Agostino is a journalist, poet, and photographer who finds inspiration in her Italian roots, walks in the woods, and daily doses of poetry (most recently Ruth Stone's.)  The writing gene runs deep: Kristin's mother and grandmother were both writers and Kristin herself has been "filling up notebooks," as she puts it, since the fourth grade. Currently based in Burlington, Vermont, Kristin is working on her MFA. Learn more about her at https://kristinmdagostino.com, and see some of her photography at https://www.etsy.com/shop/KDAgostinoPrints?ref=profile_header.
CamilleBalla:
The whole poem is like a prayer. I especially like sliding my boots into the crisp footprints of others
Posted 12/22/2021 11:17 AM
RonPoems:
I love, like angels in an advent calendar.
Posted 12/22/2021 11:01 AM
Jancan:
This is a very descriptive, reverent, moving poem with expressive details.
Posted 12/22/2021 09:53 AM
Michael:
Like the gentle and profound thoughtfulness of this poem and the contemplative flavor all the way through.
Posted 12/22/2021 09:40 AM
wordartdjc:
What a beautiful poem. I read it with delight and reverence. The author expressed her lovely feeling so very well.
Posted 12/22/2021 08:38 AM
Sharon Waller Knutson:
I loved this powerful sensuous descriptive poem. I felt like I was walking in the speaker's snow boots in the footsteps of others past the businesses, the darkened homes, the cemetery where coyotes howled to the church nativity scene to say a prayer.
Posted 12/22/2021 08:23 AM
Lori Levy:
Having grown up in Vermont, I can totally see this scene you portray in your poem. Beautiful.
Posted 12/22/2021 08:09 AM
paula:
a lovely thought, a lovely poem
Posted 12/22/2021 05:56 AM