My earliest memory—grasping that hard,
black rock in the toe of my stocking after
the thrill of so many lovely baubles. Dad's
poker-faced grin. Did you get everything?
Back in. Excited. What's this? A lump of

Coal! Giver of toys reminding me, Dad said,
that I'd been "just a little bit bad." Suddenly
I saw my Self. Like that little girl with a curl
I could be horrid. Unto me a Superego was
born. Ignited by a lump of coal. Dad called it

SOUL…
From Spooky Action at a Distance (Word Galaxy Press, 2020).
Used here with permission.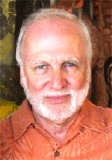 David Alpaugh has published more than 400 poems in various literary journals and in anthologies that include the Dana Gioia-edited California Poetry from the Gold Rush to the Present. His first collection, Counterpoint, which won the Nicholas Roerich Poetry Prize in 1995, has just been reprinted by Red Hen Press as part of their Story Line Press Legacy Series. David's most recent book, Spooky Action at a Distance, collects 79 of his "double-title" poems, a form he invented in 2015. A finalist for Poet Laureate of California, David teaches poetry for the University of California Berkeley Extension and the Osher Lifelong Learning Institute. Learn more about him at www.davidalpaugh.com.
bobbi43sml@aol.com:
ahhh. soul mates... loved my lumps always. thanks David.
Posted 12/23/2021 06:51 PM
Lori Levy:
Like the humor and insights in this poem.
Posted 12/23/2021 05:43 PM
cork:
There is something very special about a lump of coal. I can reach out and touch mine.
Posted 12/23/2021 08:59 AM