We live to learn new ways to hold
summer sun through winter cold. -- Robert Francis
†
†
Iím wandering the craft store aisles--
yarn bins to the ceiling of blackberry dusk,
lime sherbet, heather bloom,
grape gala and so much more.
I pass them all to find
what will carry me through
the cruel months to come: the softest acrylic
sunny day--a slight sheen on its surface
as if dusted with air of high June.
†
I fill my arms with skeins.
I will take them home, use what I need
for the warmth of winter gold. †


From the forthcoming collection, Her Joy Becomes (Fernwood Press, September 2022).
This poem first appeared in Literary North.
Used here with permission.
†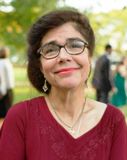 Andrea Potos, who writes in longhand, is a longtime independent bookseller and the author of numerous books; the latest is Marrow of Summer, from Kelsay Books. Andrea loves reading, travel, cafes, and walking beside lakes and on green trails—"of which there are many," she says, in Madison, Wisconsin, where she lives. Andrea's Greek grandparents and their spirit have been an abiding presence and inspiration throughout her life and poetry.
v
Lori Levy:
Love all the colors in this poem.
Posted 12/27/2021 05:23 PM
Jancan:
Such bright, lovely imagery
Posted 12/27/2021 01:05 PM
Anastasia:
I have a white-and-gold piece on my loom currentlyjust the thing for winter!
Posted 12/27/2021 12:48 PM
Janet Leahy:
The first line brings me in with the word "wandering," it sets the scene. There is no rush here, the word carries an ease that sometimes life robs us of. And the line "dusted with the air of high June" I recall the scent of June when I read that line. Lovely poem, thank you Andrea.
Posted 12/27/2021 12:35 PM
Sharon Waller Knutson:
As a fan of Andrea Potos, I love the metaphors and bold description. I am not a knitter, but writing poetry gets me through winter days in Idaho when I am snowed in and all I have to do is look out at the white snowdrifts and sky and wish I was in Arizona sunbathing and looking under blue skies as javelina and quail drink out of our pond among the greenery.
Posted 12/27/2021 12:09 PM
Shoshauna Shy:
As a knitter, this sings to me. I picture you at The Sow's Ear in Verona, Andrea! Or maybe at the new place opened on Glenway and Speedway?
Posted 12/27/2021 11:33 AM
CamilleBalla:
Yes, elegant. And the wandering through the aisles gives rhythm to the poem.
Posted 12/27/2021 10:45 AM
Michael:
What an elegant poem; layers of life folded in skeins of fabric.
Posted 12/27/2021 09:07 AM
Larry Schug:
Even a crocheted scarf begins,like a poem, hiding inside a dream. There is a magic moment between inspiration and art when you are given a vision. That's what I see in this poem.
Posted 12/27/2021 08:25 AM