Not sure when it began, this growing
ache for woods although daily I drive
between patches of scrub oaks and
pines that do well in sandy soil.

Faintly, I hear the woods that sang
at night on the winds of childhood,
soughing outside my bedroom windows
every season, even in winter when snow

linked the trees like their wandering
network of roots. Many days I followed
deer prints in the creek, or animal paths
in and out of thorny tangles.

The Great North Woods haunted my
dreams, and I entered them, seeking
again the little cottage whose windows
welcomed me with candles—who waited

for me to open the door to a fire in the
hearth, a pot of hot soup, and a gentle dog
whose paws trembled as it chased dream
rabbits among the shivering pines.


From A Prayer the Body Makes (Kelsay Books, 2020).
Used here with permission.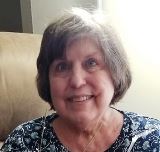 Penny Harter lives in the Southern New Jersey shore area, about a half-hour inland from the Atlantic Ocean. A mother, grandmother, and former high school teacher of English in New Jersey and Santa Fe, New Mexico, her poems usually feature the natural world and our connections to it. Penny's work also explores the mysteries of time, memory, and mortality. Learn more about her at https://www.pennyharterpoet.com.

Lori Levy:
Yes, beautiful.
Posted 12/28/2021 02:05 PM
Anastasia:
I want to visit that little cottageit sounds like a wonderful place!
Posted 12/28/2021 01:13 PM
TheSilverOne:
A poem that spoke to my memories, what I loved as a child.
Posted 12/28/2021 12:56 PM
Michael:
Wonderfully experiential! Thank you, Penny.
Posted 12/28/2021 08:53 AM
paula:
a lovely poem!
Posted 12/28/2021 05:18 AM