When the day changed and the mad wind died down,
The powdery drifts that all day long had blown
Across the meadows and the open fields,
Or whirled like diamond dust in the bright sun,
Settled to rest, and for a tranquil hour
The lengthening bluish shadows on the snow
Stole down the orchard slope, and a rose light
Flooded the earth with beauty and with peace.
Then in the west behind the cedars black
The sinking sun stained red the winter dusk
With sullen flare upon the snowy ridge,--
As in a masterpiece by Hokusai*,
Where on a background gray, with flaming breath
A scarlet dragon dies in dusky gold.


This poem is in the public domain.
*A Japanese artist who achieved tremendous success during the late 18th century and early 19th century.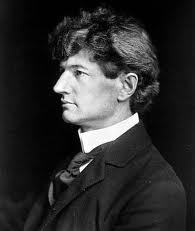 William Bliss Carman (1861 - 1929) was a Canadian poet whose standing and success rose and fell throughout his lifetime, though he was eventually named as his country's poet laureate. Distantly related to Ralph Waldo Emerson, Bliss spent most of his adult life in Boston, pursuing whatever literary career he could. Though his poetry was respected, it wasn't especially popular until he published Songs of Vagabondia, a rollicking, free-spirited collection that people connected with immediately. His other most notable work was serving as editor for the World's Best Poetry book series.
Anastasia:
Thank you for these moments of beauty, Jayne!
Posted 12/30/2021 01:28 AM
Arlene Gay Levine:
A masterpiece in its own right and like Michael, I was whisked to this moment of peace and beauty...a real gift, Jayne!
Posted 12/29/2021 12:08 PM
richard.cary@att.net:
Wow....
Posted 12/29/2021 11:20 AM
DavidTookey:
So many beautiful images!!
Posted 12/29/2021 10:33 AM
KevinArnold:
So good of Jayne to plow through and find such nuggets. Happy Hols all.
Posted 12/29/2021 09:54 AM
Gilbert Allen:
The enjambed blank verse skillfully links the poem's shifting images.
Posted 12/29/2021 09:30 AM
Janet Leahy:
Great first line about the mad wind. Lots of movement in this poem and wonderful color. Love the bluish shadows that stole down the orchard slope. Wonderful language, each line so visual and nice reference to a famous artist.
Posted 12/29/2021 08:58 AM
cork:
I know "The Wave" by Hokusai and love the reference to his work.
Posted 12/29/2021 08:52 AM
Michael:
This poem puts me "there" always the mark of an accomplished craftsman. Wonderful post, Jayne.
Posted 12/29/2021 08:51 AM
Larry Schug:
Even then, in a different time and culture, the search for an hour of tranquility. The pacing of this poem fits perfectly to my ear.
Posted 12/29/2021 07:42 AM