I want to thank this pot for its art
of containment, the stove for its gentle
heat. Thank you to the beans, all fifteen
of you, for your transformation from stony
pebbles into nuggets of deliciousness, regaining
your original forms: large & small limas, lentils,
navy beans, pintos, yellow-eyed beans, red & white
kidneys, black beans, garbanzos, cranberry beans,
small white & pink beans, green & yellow split peas.
And thank you to the onions, for your bite and snap;
tomatoes, chili powder, garlic, lemon juice—what
you add is undetectable, but if you're omitted,
all is lost.  A word of applause, gnarly ham hocks,
for coming apart in the bubble and boil,
for lending your parts for the good of the whole.
And thank you, thank you, stoneware bowls—
without your help, this dinner wouldn't be possible.
Have I forgotten anyone? The farmer who sowed
the crops, the rancher who raised the pigs, the grocery
store that carried their wares. Finally—and yes, I hear
the orchestra music, know my time is coming to a close—
let me thank the housewife, lost in history, who figured
out this recipe, the proportions, who added in the harmony,
the way the notes combined, the blend, the music, the mastery.


From Some Glad Morning (Pitt Poetry Series, University of Pittsburgh Press, 2019).
Used here with permission.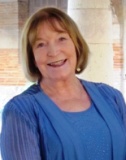 Barbara Crooker's award-winning poems have appeared in numerous magazines, journals, and anthologies and have been featured on the BBC, the ABC (Australian Broadcasting Company), The Writer's Almanac, and in the Poetry at Noon series at the Library of Congress. Recipient of many fellowships and residencies in the U.S., as well as in Ireland and France, she was also a Grammy finalist for her part in the audio version of the popular anthology, Grow Old Along with Me--the Best is Yet to Be. Barbara lives in Fogelsville, Pennsylvania; her latest book is Some Glad Morning, just released from the University of Pittsburgh Press. Learn more about Barbara at www.barbaracrooker.com.
Lori Levy:
Delicious poem.
Posted 01/06/2022 09:37 PM
Adriana:
a rich flavorful poem-love bean soup (sans the ham hocks)-all that thanks but none for the pigs!
Posted 01/06/2022 02:35 PM
CamilleBalla:
Wow! Im getting in the mood to make a pot of bean soup, transforming stony pebbles and all ingredients for the good of the whole! Perfect weather now for bean soup
Posted 01/06/2022 02:09 PM
KinVT:
A January poem if ever there was one. Reading it made me just a little bit warmer. Thank you
Posted 01/06/2022 10:42 AM
Michael:
I'll be right over!
Posted 01/06/2022 09:29 AM
cork:
I have five one pound 12 mix bean packages waiting to harmonize.
Posted 01/06/2022 09:13 AM
gailcomorat:
A delicious praise poem.
Posted 01/06/2022 08:44 AM
Darrell Arnold:
A symphony of soup.
Posted 01/06/2022 08:02 AM
Rob:
Love "acceptance speech" format! Very fun!
Posted 01/06/2022 07:39 AM
Kay N. Sanders:
Oh, Barbara! You have described exactly and lusciously the soup I made after the Christmas company had all gone home. There are still 10 individual servings in my freezer, along with a container of cornbread muffins. I will never have 15-bean soup again without thinking of you.
Posted 01/06/2022 07:36 AM
Pat Brisson:
Thank you, Barbara. This poem makes my mouth water.
Posted 01/06/2022 06:43 AM
Sharon Waller Knutson:
"Fifteen Bean Soup" is one of the reasons I am Barbara Crooker's biggest fan. She has cooked up another delicious poem that has my mouth watering for more. She not only thanks every bean in the soup, the pot, the stove,the bowl, she thanks the farmer that grew the beans and the woman who wrote the recipe. Magnificent work of art.
Posted 01/06/2022 05:16 AM