Their wings flutter
for scattered seed.

Evening glows soft
on their shoulders.

They rest a bit,
then flit away

to cedar limbs
in brumal dark.


From Contour Feathers (Turning Plow Press, 2021),
Used here with permission.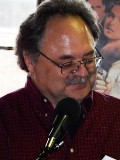 Ken Hada is a professor at East Central University in Ada, Oklahoma. Author of nine books, the latest being Contour Feathers, he was raised in the rural Ozarks and enjoys hiking, flyfishing, and kayaking. Ken's work has received awards from Western Writers of America, the National Western Heritage Museum, The Writer's Almanac, and the Oklahoma Center for the Book. He hosts a weekly podcast, "The Sunday Poems." Learn more about Ken at www.kenhada.org.
Anastasia:
A nicely captured winter scene!
Posted 01/07/2022 04:35 PM
Lori Levy:
Picturesque.
Posted 01/07/2022 02:53 PM
Jancan:
Lovely, succinct description of a scene in nature
Posted 01/07/2022 10:16 AM
KevinArnold:
Ah, brevity. Plus, I learned a new word.
Posted 01/07/2022 10:10 AM
Manya:
Beautiful
Posted 01/07/2022 09:51 AM
Michael:
Well said, Ken.
Posted 01/07/2022 09:14 AM
cork:
I love the two-line sentences.
Posted 01/07/2022 09:05 AM
Sharon Waller Knutson:
Nice description and alliteration in sparse poem.
Posted 01/07/2022 08:10 AM
Rob:
Lovely winter scene!
Posted 01/07/2022 06:27 AM