Three minutes ago, I posted a post,
And nobody's liked it yet.
Until somebody puts up a like,
All I do is sit and fret.
 
Perhaps the Internet's broken,
Or none of my friends are online?
No, postsalot just put up a post,
And everyone's liked it fine.
 
Why don't they give me a pat on the back,
And say I'm a clever girl,
Instead of giving 34 likes
To a stupid meme of a squirrel?
 
Wait, there's a heart. Some love at last!
Oh rats, it's only Mom.
If this is how it's gonna go,
Facebook and I are done.


From The Fickle Muse (2021).
Used here with permission.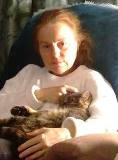 Kate Tompkins lives in Montreal with her husband of 30+ years and a very spoiled cat. When not providing a warm lap for the cat, she writes poetry—some of it serious and some of it "silly," she says, "about cats and gardening." Kate's e-chapbook, The Fickle Muse, is available at https://books2read.com/b/3ya1BL. She is currently working on a second book of poems, as well as a short story collection about a city girl/pastor's wife adjusting to life in a small town.
Anastasia:
So funny, yet so true!
Posted 01/12/2022 12:41 PM
KateTompkins:
Thanks, everyone! Nice to get actual comments instead of a generic like by someone you know hasn't actually looked at what you posted anyway. And now to go check Facebook, where I posted a link to this.
Posted 01/11/2022 08:35 AM
Larry Schug:
What is this Facebook thing of which you speak?
Posted 01/10/2022 07:03 PM
Lori Levy:
Great! Love the humor in this poem.
Posted 01/10/2022 06:00 PM
Jancan:
I don't do Facebook, but I'm on two poetry-sharing websites, so your poem resonates with me. Yes, we DO care about others' opinions of our poems! I really like yours. :-)
Posted 01/10/2022 10:51 AM
cork:
I can't wait to check out my Facebook likes this morning.
Posted 01/10/2022 09:08 AM
Michael:
So true! From whence comes our satisfaction in life? Not from FB that is for sure! Nicely done, Kate.
Posted 01/10/2022 08:17 AM
Sharon Waller Knutson:
I enjoyed this funny, uplifting, wise poem about Facebook.
Posted 01/10/2022 06:33 AM
Appreciate:
Good one!
Posted 01/10/2022 05:03 AM