It took jumping on the tire iron
to loosen the first lug out in the subzero cold
on a gravel road outside Papillion, Nebraska,
then a few bangs and swear words
to loosen the rest. The dealer said
the tire just wore out trying to keep air in
when it was so cold outside,
must have leaked right through the seams
since the valve was good and the rim tight.

He said he'd seen a few people that way
that day, flat, soul-less, inanimate.
He had means to start a car in the cold--
chargers, oil pan warmers, alcohol sprays
that unstuck a frozen butterfly--
but wished he had a joke or hopeful point
of conversation to turn those people over.
Even coffee doesn't do, he said.
It's hot chocolate wins them over,

fat, milk, a sweet, thick taste, like insulation
against the hardness of life. Reminds them
of when their mothers beat back the cold.

© by Jeff Burt.
Used with the author's permission.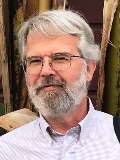 Jeff Burt lives in Central California with his wife and a young Labrador he claims is half plow-horse. Jeff says his body clock has the routine of a farmer: rise early, work early, lunch early, and a rapid dissipation of energy around ten at night—meaning he knows more about dawn than he probably should, and less about the stolen pleasures of staying up late than he ought to. Learn more about Jeff at http://www.jeff-burt.com.
Adriana:
I love the craft of this poem, how, even though it doesn't rhyme, it reads as if it does; every line seems perfect to move forward the charming message.
Posted 01/15/2022 12:10 PM
carlpalmer:
Clever...frozen butterfly = subzero Papillion
Posted 01/12/2022 01:34 PM
Anastasia:
Hot chocolate is wonderfully cheering!
Posted 01/12/2022 12:38 PM
Lori Levy:
Great metaphor, and I agree with the dealer--something sweet always helps.
Posted 01/12/2022 11:20 AM
KinVT:
Very clever. Definitely creates images that will stay with the reader for awhile. Perfect timing..high temperature yesterday was 1 degree!
Posted 01/12/2022 09:16 AM
cork:
My low tire light came on because of the cold.
Posted 01/12/2022 08:56 AM
Rob:
Love the movement of the poem and the use of the flat tire as a metaphor to grow the rest of the poem out of!
Posted 01/12/2022 05:49 AM