I had for my winter evening walk—
No one at all with whom to talk,
But I had the cottages in a row
Up to their shining eyes in snow.
And I thought I had the folk within:
I had the sound of a violin;
I had a glimpse through curtain laces
Of youthful forms and youthful faces.
I had such company outward bound.
I went till there were no cottages found.
I turned and repented, but coming back
I saw no window but that was black.
Over the snow my creaking feet
Disturbed the slumbering village street
Like profanation, by your leave,
At ten o'clock of a winter eve.


This poem is in the public domain.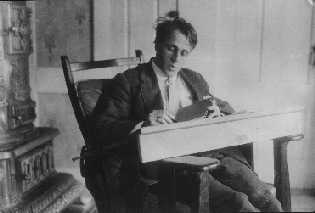 Robert Frost (1874-1963) was born in San Francisco, but moved to Massachusetts with his family after his father's death in 1885 and, ultimately, lived in a number of homes and farms throughout New England. Though he attended several prestigious colleges and universities, he never graduated from any of them. Nonetheless, Robert spent most of his adult life teaching, receiving more than forty honorary degrees, along with four Pulitzer Prizes. Robert's interest in poetry started early; he published his first poem while in high school, sold his first poem at twenty, and by the age of forty, was one of America's best known and best loved poets. Rural life is a consistent theme in Robert's poetry, as is simplistic language that is pleasing to the ear; he felt strongly that poetry was best appreciated when read aloud.
Lori Levy:
One of my favorite poets.
Posted 01/15/2022 07:22 PM
Anastasia:
A perfect description of a snowy night's walk!
Posted 01/15/2022 03:54 PM
wordartdjc:
The man had such empathy for everyday action and ever portrayed the common man. His deep feelings come through in each poem he has written. No wonder he is so very honored and loved.
Posted 01/15/2022 10:07 AM
cork:
"Up to their shining eyes in snow"is a great metaphor for the windows' glow.
Posted 01/15/2022 09:54 AM
Sharon Waller Knutson:
Robert Frost is my number one favorite poet because his writing is warm and real and stands the test of time. His unique images like: "But I had the cottages in a row/Up to their shining eyes in snow" are authentic and photographic. He expresses what I see, think and feel.
Posted 01/15/2022 09:53 AM
Michael:
A study in craft-perfection to be sure.
Posted 01/15/2022 09:25 AM
Darrell Arnold:
Scary good. Wow! I can feel it all. I've been there, done that, but never told it, let alone told it so vividly, or told it so simply. Man oh man. I've got work to do.
Posted 01/15/2022 08:21 AM