Once, while digging 'neath the snow,
'Mid Canadian winter, lo!
To our joy and surprise
We saw some violets in full bloom,
Gazing at us with loving eyes,
Thanking us for opening their tomb,
Yet still they seemed so cozy and nice
Enshrined in the crystal ice,
While all else were drooping dead
Gaily they held up their head.


This poem is in the public domain.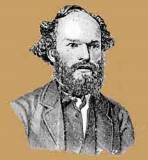 James McIntyre (1827 – 1906) was born in Scotland, but migrated to Canada when he was fourteen. Always good with his hands, he eventually started a furniture manufacturing operation in Ontario. James was so inspired by the Canadian countryside and its thriving dairy industry that he began writing poetry which, while unpolished and often amateurish, had a distinct charm and appeal that endeared him to many. The "Cheese Poet", as James ultimately came to be called, published two full collections and was much in demand as a public speaker.
Anastasia:
A wonderfully cheerful start to the day! Thank you, Jayne!
Posted 01/17/2022 02:51 PM
Jancan:
Descriptive poem with timeless beauty and meaning! Good choice for the day
Posted 01/16/2022 10:52 PM
paradea:
I agree with Darrell!!! Excellent!!
Posted 01/16/2022 12:55 PM
Darrell Arnold:
If we just pay a bit of attention, we can be blessed with little natural miracles like this every day. God is amazing. McIntyre noticed. Excellent.
Posted 01/16/2022 12:07 PM
cork:
Oh, the rhyme, the rhyme.
Posted 01/16/2022 08:56 AM