In my time, my childbearing days, there were no apps,
so your father was never a blueberry to me.
But you, my granddaughter in the womb,
you are a fruit, delicious, desired,
a different one each week. Your parents show me
your size on their pregnancy app.
We follow your growth in fruit/seed terms.
First you're as tiny as a vanilla bean seed.
You grow into a poppy seed, an orange seed, a sweet pea.
In week seven, you're a blueberry. I add blueberries
to my oatmeal, thinking of you, little one.
Bigger and bigger. A raspberry. An olive. A prune
in week ten. And then a strawberry—a large one,
says the app. In week twelve, your mother sees you
on the ultrasound: your little hands and feet, body, face.
I ask about fruit. She tells me you are now a lime.
A lovely lime, dear granddaughter! A taste of sour
to prepare you for life, which, you may discover one day,
is a feast of sweet and sour moments.

There is no grape on the app, but I think of you as my grape,
my wine—the wine I want to take on a picnic one day
with a basket of bread and cheese and fruit.
We will celebrate the grass, the trees, the flowers. You.

In the meantime, we wait for the largest fruit:
you will be a watermelon, full and ripe,
ready, finally, to join your parents on their journey.
Ready to join us—your family in America, Japan,
Panama, Israel—at this table we have set,
this picnic we call life.


© by Lori Levy.
Used with the author's permission.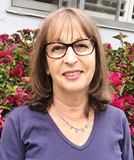 Lori Levy's poems have been published in numerous literary journals and anthologies in the U.S., the U.K., and Israel. She and her family live in Los Angeles now, but Lori grew up in Vermont and raised her children in Israel. She enjoys reading, writing, and spending time with family and friends, especially in nature. Her four grandchildren—soon to be five!--keep her entertained, on her toes and, occasionally, inspire poems.
paradea:
Good poem!!
Posted 01/23/2022 02:45 PM
Jo:
What a joy to read this poem, Lori. Comparing your granddaughter in the womb with seeds and fruitsand here she is, now 5 months old. Such happiness.
Posted 01/22/2022 10:34 PM
Lori Levy:
Thank you all for your comments!
Posted 01/22/2022 09:18 PM
Jancan:
This is such a lovely, expressive, joyous poem. You have used effective metaphors throughout to convey your sweet message about that coming grandchild!
Posted 01/22/2022 08:22 PM
jentsch:
Great poem! My son and daughter-in-law must have had the same app! And now we get to see the weeks bear fruit once again.
Posted 01/22/2022 05:35 PM
Jgonzalez 1994:
Congratulations on the new addition. Great poem about the difference now and then of childbearing
Posted 01/22/2022 03:25 PM
Arlene Gay Levine:
Congratulations, Lori, on your new granddaughter as well as a fine poem about her and "this picnic we call life."
Posted 01/22/2022 01:37 PM
joecot:
Marvelous poem! Thanks for sharing the journey. Except eating the blueberries made me shiver :-)
Posted 01/22/2022 12:10 PM
mszlyk:
What a charming poem! My best to you and your family, Lori.
Posted 01/22/2022 11:19 AM
Sharon Waller Knutson:
I love this delightful, delicious mouthwatering poem as Lori brilliantly uses seeds and fruits as metaphors to describe the growth of her granddaughter in the womb. I can see and taste blueberries, strawberries, grapes and watermelon as her son and daughter-in-law watch the ultrasound and wine and cheese as they celebrate the miracle of birth and life.
Posted 01/22/2022 10:33 AM
Cathy's Sister:
Lovely poem!
Posted 01/22/2022 10:07 AM
KateTompkins:
What a marvellous celebration of life!
Posted 01/22/2022 09:29 AM