Some men to carriages aspire;
On some the costly hansoms wait;
Some seek a fly, on job or hire;
Some mount the trotting steed, elate.
I envy not the rich and great,
A wandering minstrel, poor and free,
I am contented with my fateó
An omnibus suffices me.
†
In winter days of rain and mire
I find within a corner strait;
The 'busmen know me and my lyre
From Brompton to the Bull-and-Gate.
When summer comes, I mount in state
The topmost summit, whence I see
Crúsus look up, compassionateó
An omnibus suffices me.
†
I mark, untroubled by desire,
Lucullusí phaeton and its freight.
The scene whereof I cannot tire,
The human tale of love and hate,
The city pageant, early and late
Unfolds itself, rolls by, to be
A pleasure deep and delicate.
An omnibus suffices me.
†
Princess, your splendour you require,
I, my simplicity; agree
Neither to rate lower nor higher.
An omnibus suffices me.


This poem is in the public domain.
†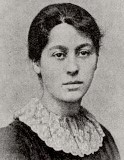 Amy Levy (1861 – 1889) was born in London and lived in her family home there for most of her life. She began writing in her early teens and published a number of essays, articles, and short stories. Ultimately, she published three collections of poetry and three novels. An avowed feminist, she suffered from severe depression from an early age and, tragically, committed suicide shortly before her 28th birthday.
Anastasia:
A perfect word-picture! I so miss visiting London!
Posted 01/23/2022 03:16 PM
wordartdjc:
So very sad to be gone so young. Life is tenuous, fleeting, and sometimes so very difficult. Interesting poem, however. so
Posted 01/23/2022 09:13 AM
Darrell Arnold:
I love these old poems by the English poets. The style of the language fascinates me, and the wordsmanship, in the carefully crafted stanzas-- always inspire me to do my best with my own work. What is it about artists that makes them so sensitive to life, life which they obviously admire enough to experience and write about?
Posted 01/23/2022 08:43 AM