In icy fields.
Is water flowing in the tank?
Will they huddle together, warm bodies pressing?
(Is it the year of the goat or the sheep?
Scholars debating Chinese zodiac,
follower or leader.)

O lead them to a warm corner,
little ones toward bulkier bodies.
Lead them to the brush, which cuts the icy wind.
Another frigid night swooping down — 
Aren't you worried about them? I ask my friend,
who lives by herself on the ranch of goats,

far from here near the town of Ozona.
She shrugs, "Not really,
they know what to do. They're goats."

From Everything Comes Next: Collected & New Poems (Greenwillow, 2020).
Used here with permission.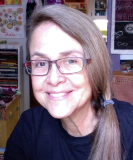 Naomi Shihab Nye was born to a Palestinian father and an American mother and lives in San Antonio, Texas. Author of numerous books of poems, her forthcoming titles include Dear Vaccine and The Turtle of Michig. Naomi loves people who are 2 and 3 years old, and an organic vegetable/fruit delivery company called Imperfect Produce.

Anastasia:
The goats have more sense than some people I've dealt with!
Posted 01/31/2022 12:48 PM
joecot:
A smile for my morning. Lovely. Thanks.
Posted 01/29/2022 12:36 PM
Jancan:
Expressive piece about animals following their God-given instincts
Posted 01/29/2022 11:30 AM
KevinArnold:
Naomi is another trusted name. As one would expect, fine ending.
Posted 01/29/2022 09:41 AM
cork:
I often wonder about the wildlife in winter here in Wyoming.
Posted 01/29/2022 09:16 AM
Stephen Anderson:
Humankind in our highly evolved state too often is bewildered by what needs to be done.
Posted 01/29/2022 08:48 AM
Michael:
Perhaps we humans should take a lesson from the goats who know what to do in tough times!! Wonderful, provocative poem.
Posted 01/29/2022 08:26 AM
Lori Levy:
Im a fan of yours. Love your poems.
Posted 01/29/2022 07:41 AM
Larry Schug:
Lucky goats!
Posted 01/29/2022 07:32 AM