Tomatoes rosy as perfect baby's buttocks,
eggplants glossy as waxed fenders,
purple neon flawless glistening
peppers, pole beans fecund and fast
growing as Jack's Viagra-sped stalk,
big as truck tire zinnias that mildew
will never wilt, roses weighing down
a bush never touched by black spot,
brave little fruit trees shouldering up
their spotless ornaments of glass fruit:

I lie on the couch under a blanket
of seed catalogs ordering far
too much. Sleet slides down
the windows, a wind edged
with ice knifes through every crack.
Lie to me, sweet garden-mongers:
I want to believe every promise,
to trust in five pound tomatoes
and dahlias brighter than the sun
that was eaten by frost last week.


From Colors Passing Through Us: Poems (Knopf, 2003).
Used here with the authorís permission.
†
†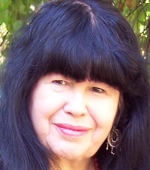 Marge Piercy is the author of 19 books of poetry, 17 novels, a short story collection, a memoir, and five nonfiction books. Pm Se[te,ber 3-th Knopf will publish a new poetry collection, On the Way Out, Turn Off the Light. Marge holds several honorary doctorates and has performed her work at more than 550 venues around the world. Born in Detroit, she lives on Cape Cod with her husband and several cats. Marge writes, teaches an annual poetry workshop, and is an enthusiastic gardener. Learn more about her at†http://www.margepiercy.com..
bruceniedt:
I'm proud to have Marge as a friend and mentor. This poem is a perfect example of her humor and her love of gardening. She was just lamenting the demise of a favorite fruit tree in the recent Nor'easter. Her gardens are lush and lovely.
Posted 01/30/2022 10:19 PM
BAMars:
So good for a topic that can be over-earnest at times. I love the Viagra-sped stalk, the blanket of seed catalogs. She is so extremely gifted. Love Gilbert's comment - big fan of Oscar and that play in particular.
Posted 01/30/2022 03:05 PM
Lori Levy:
Beautiful language and images.
Posted 01/30/2022 02:09 PM
Michael:
Love her use of similes in this poem. Of course, Piercy is one of our most enduring living poets. No surprise at her skill.
Posted 01/30/2022 02:08 PM
Larry Schug:
Who wouldn't be drawn into this poem by the opening line!
Posted 01/30/2022 12:47 PM
KinVT:
Wow. Masterful use of words & imagery ..such a gutsy poem. I love it. I vividly experienced both summer & winter, in two stanzas. But then it is from the pen of Marge Piercy whose novels stay inside you for decades. I know that personally. Poet observation: interesting use of punctuation marks.
Posted 01/30/2022 11:44 AM
Sharon Waller Knutson:
I'm a big fan of Marge Piercy. I loved this delightful, colorful, visual and relatable poem. i can see and taste tomatoes rosy as perfect baby's buttocks, eggplants glossy as waxed fenders, purple neon flawless glistening peppers, pole beans fecund and fast growing as Jack's Viagra-sped stalk, big as truck tire zinnias.
Posted 01/30/2022 10:25 AM
KevinArnold:
Another trusted namethanks.
Posted 01/30/2022 10:23 AM
cork:
I am a poetaster who was born in Detroit and has had miraculous gardens.
Posted 01/30/2022 10:19 AM
Stephen Anderson:
The creatuve wordplay in this poem is extraordinary!
Posted 01/30/2022 08:55 AM
Gilbert Allen:
This delightful poem made me think of Gwendolen's line in The Importance of Being Earnest: "I have the gravest doubts upon the subject, but I intend to crush them."
Posted 01/30/2022 08:33 AM