In honor of my big sister's birthday
January 31, 2007


It's a long way from Hardee County to Frisco's hilly streets—
far removed from Dasher's, the Glee Club, and Mrs. Deitz.
But there, beside that famous bay, two sisters found their place
and made a perfect memory bound in elegance and grace.
Amid damask and dubious Druids, bone china and lemon curd,
the ladies took tea and enjoyed the loveliest music they'd ever heard.
Nibbling caviar and crumpets, they sipped champagne and tea—
set aside life's sundry burdens for an afternoon's esprit.
At a later date, these sisters made a pilgrimage back home
to spend time with precious loved ones they feared might soon be gone.
Though the weather was oppressive, the fellowship was sweet,
the music even sweeter—an extra special treat.
Dear friends and old relationships were easy to reclaim,
so, yes, you can go home again, though it's never quite the same.
And then, these Southern sisters undertook a noble quest;
with lists and maps and cameras in hand, they launched "The Book Tour-West."
Up I-5 they sallied, "jazz and lickaaaaah" in the air,
stopping first for wine, then cherries...making u-turns everywhere.
Cherished friends and the kindness of strangers made up for the grueling pace:
one hundred stops in seven days, adventures in every place.
Back down the Pacific Highway, through the dark woods of Big Sur,
they roamed the backroads of Carmel with no clue where they were.
Returning home, they went back to their keyboards once again,
to ponder the next adventure: where might it be, and when?
For once these G.R.I.T.S. got a taste of the Ritz, it confirmed what they always knew;
life's meant to be lived to the fullest, not merely be gotten through.
And if one has a sister to share life's foibles and fun,
one is blessed beyond all measure, and richer than anyone.


© 2007 by Jayne Jaudon Ferrer
Used with the author's permission.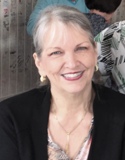 Jayne Jaudon Ferrer is the author of five books of poetry and a nonfiction book about games. Her latest publication is Poems to Lift You Up and Make You Smile, an anthology harvested from the many wonderful poems featured on YourDailyPoem.com, a website she created 12 years ago. Jayne speaks frequently at churches, schools, and writing-related events and her work has appeared in hundreds of publications. When not writing or reading, she enjoys music, old movies, gardening, hiking, and good conversation. A native Floridian, Jayne has lived in Greenville, South Carolina, for the past 27 years. Learn more about her at www.jaynejaudonferrer.com.
Jo:
What a delight to read about your trip with Vera. Your girls really lived it up. Im sending the poem to my sister in ORno trip together but lots of wonderful moments. Lovely tribute, Jayne. Happy Birthday Vera.
Posted 01/31/2022 10:25 PM
ladyleo191:
Wonderful! I just spent most of the summer and autumn with my sister in California, all around the Bay area.It truly is a place for this GRITS.
Posted 01/31/2022 05:36 PM
mjorlock:
What a nice birthday tribute, rendered in catchy couplets!
Posted 01/31/2022 05:10 PM
KevinArnold:
What fun!
Posted 01/31/2022 04:05 PM
ghctenmile@earthlink.net:
Thanks for sharing your sister with us, Jayne.
Posted 01/31/2022 03:48 PM
Arlene Gay Levine:
This wonderful poem is a celebration all by itself, Jayne! How elegantly you pull all the stops out to honor your sister while tugging on our heartstrings at the same time.
Posted 01/31/2022 03:48 PM
jentsch:
What a joy to read! Thanks for sharing.
Posted 01/31/2022 02:02 PM
Anastasia:
What a fun poem, capturing so many wonderful memories! I'm so glad the two of you had such a grand adventure! And happy birthday to Vera!
Posted 01/31/2022 12:43 PM
Nabby Dog:
A delightful and most welcome poem! It is so good to start a day with a smile!
Posted 01/31/2022 12:21 PM
pwax:
I love it, Jayne! I could almost hear it being sung. It should be set to music.
Posted 01/31/2022 11:43 AM
Janet Leahy:
I love that "the ladies took tea" my sister and i did that in Chicago, in Tucson, and in many lovely settings in the southwest. My sister died this past March, I treasure the memories and the conversations we had together. Thanks Jayne for a great poem.
Posted 01/31/2022 11:36 AM
carlpalmer:
Thanks for sharing, Jayne. Happy Birthday, Vera.
Posted 01/31/2022 11:36 AM
wordartdjc:
Well, you took me on a wild trip, and wasn't that fun! Sometimes in this life, we just have to 'break out of the ordinary and just have a marvelous time with a sister. You two must relive these great memories many times over...Happy Birthday Sis!
Posted 01/31/2022 10:04 AM
bobbi43sml@aol.com:
Happy Birthday lucky sister-grits - what a love filled lyrical gift of a poem...... and it keeps on giving. It gave me a wet face of course..... and it fills my heart to know the joy it was to write that. I have been doing birthday rhymes for my grandchildren for 18 yrs now....
Posted 01/31/2022 09:41 AM
Larry Schug:
Just the perfect touch in conveying this story in which everything from kindness to sisterhood, to road trips, to foibles to food is included. Very much fun to read, aloud, of course.
Posted 01/31/2022 09:29 AM
NormaB:
Love this! Reminds me of trips I've taken not with my sister but with my best friend. A poem to start my day!
Posted 01/31/2022 09:20 AM
cork:
I always read aloud, and I loved your music.
Posted 01/31/2022 09:03 AM
Michael:
A Delightful, whimsical romp! Enjoyed every couplet rhyme--happy birthday, Vera.
Posted 01/31/2022 08:27 AM
Darrell Arnold:
No need to ask us for forgiveness. You are our hero. You set a high standard and you show us how to achieve it. I love the love that spills out of every line.
Posted 01/31/2022 08:03 AM
r1manchester:
Good spirit, good poem & happy B-day to big sis!
Posted 01/31/2022 07:10 AM
Vera:
So many precious memories from that trip! Thank you for all the ways you light up my life and remind me to squeeze all the beauty out of each day.
Posted 01/31/2022 07:06 AM
Nicholas:
Thank you so much Jayne for sharing your love for your big sister. Loved these lines: "Amid damask and dubious Druids, bone china and lemon curd, the ladies took tea and enjoyed the loveliest music theyd ever heard."
Posted 01/31/2022 05:52 AM
Lori Levy:
This is great, Jayne! I love the title and all the details of the trip and how well the rhyme works.
Posted 01/31/2022 05:51 AM