"That which is loved is always beautiful."
                                                                   --Norwegian proverb
This sweater
so worn, so warm
snowflake pattern on blue
frayed sleeves
with white blankets of winter
or ragged banks disappearing into spring
through the seasons, a loved thing
this sweater.
 
This wooden box
so scarred, so sturdy
childish trinkets
remembered with delight or pride
and girlhood dreams not lost
a heart-shaped card, a stone, a feathered wing
through the years, a loved thing
this wooden box.
 
This man
so weathered, so wise
whose face reflects
the trials of time, the joys
a mirror in which his past is told
like scratches on a gold and silver ring
through our life, a loved thing
this man.


© by Marsha Foss.
Used with the author's permission.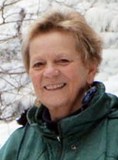 Marsha Foss, a retired educator, spends her time between her two favorite states, Maryland and Minnesota. When in St. Paul, she enjoys being connected to the area's vibrant writing community. Her work has been published in numerous places, and she has been nominated for a Pushcart Prize. An added joy is living near two young grandsons.
TheSilverOne:
Beautiful, tender poem. A reminder what has value.
Posted 02/01/2022 08:34 PM
peggy.turnbull:
This is beautiful. It comes together with rhythm/sound, imagery, emotion. This is a poem I wish I had written. I can learn from it. Thank you.
Posted 02/01/2022 08:22 PM
Janet Leahy:
A beautiful poem, so tender and precious. Loved reading it several times. Thank you.
Posted 02/01/2022 06:55 PM
Anastasia:
Wonderful images, and such a sweet ending!
Posted 02/01/2022 04:46 PM
Tracers645:
Great images. :-)
Posted 02/01/2022 04:06 PM
CamilleBalla:
Lovely poem so perfect for this time near Valentines Day. I like the soft rhythm, repetition, progression and sentiment.
Posted 02/01/2022 02:57 PM
joecot:
Love the rhythm.
Posted 02/01/2022 10:40 AM
Nicholas:
Loved this. I bet many of us, if not all, have an old sweater, wooden box and wise man we cherish.
Posted 02/01/2022 10:23 AM
Michael:
Wow! Poignant and lovely, Marsha. This poem is where we readers live. Nicely done!!
Posted 02/01/2022 10:15 AM
Lori Levy:
Beautiful images and language.
Posted 02/01/2022 09:24 AM
Lizou:
Such a lovely poem that made me think about my loved things. Thank you for sharing it.
Posted 02/01/2022 08:18 AM
Sharon Waller Knutson:
I love this picturesque poignant poem. My favorite images; "white blankets of winter" and "a mirror in which his past is told like scratches on a gold and silver ring."
Posted 02/01/2022 07:23 AM
KinVT:
Frayed, scarred, weathered, & with scratches a beautiful love poem indeed. Real. This reader definitely felt the love contained in this poem.
Posted 02/01/2022 06:15 AM
Rob:
Very beautiful language usage and ideas. Love the sequence of images and their layout!
Posted 02/01/2022 05:46 AM