I've found the place called heaven,
at least the one for me,
in the circle of two loving arms
and the comfort they can be.

I've found it in a tender smile,
in the thrill of a new caress,
in the soothing lull of a deepened voice,
in such simple happiness.

I've found the place called heaven
in the touch of a gentle hand
in the words that say you love me
and the way you understand.

For heaven isn't one place, dear,
it can be quite a few—
for I've  found that place  called heaven
in being, sweetheart, with you.


From Anema 'Core: My Soul, My Heart (2020).
Used here with permission.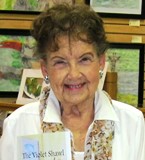 Doris Dix Caruso was born in Chicago, Illinois, but now makes her home in Burlington, North Carolina. Past president of the Burlington Writers Club, now in its 65th year, and current member of a group that makes hats, scarves, and gloves for chemotherapy patients, she is the author of four novels and a collection of poetry.
Jo:
Very loving and heartfelt, Doris. Thank you.
Posted 02/03/2022 12:06 AM
Janet Leahy:
A remarkable poem, pure pleasure to read, thank you Doris.
Posted 02/02/2022 12:41 PM
Anastasia:
What a lovely poem, and a fascinating poet!
Posted 02/02/2022 12:19 PM
ghctenmile@earthlink.net:
What a life! What a story!-- It's a joy to read. Thanks.
Posted 02/02/2022 12:09 PM
Arlene Gay Levine:
Doris, thanks for opening my heart this morning with a true tribute to love.
Posted 02/02/2022 11:57 AM
KinVT:
So beautiful! If that aint love, & poetry, nothing is!! ..sigh :)
Posted 02/02/2022 10:48 AM
DavidTookey:
Doris, I can't think of a better example of "sophisticated" beyond the elegant, refined grace of this poem. Wonderful!!!!
Posted 02/02/2022 10:10 AM
wordartdjc:
Thank you, Jayne, and all who have commented on my poem. My life was a 'fairy tale' existence as I had for my own the unconditional love of a literal genius of a man. At nearly ninety-four, although he is not by my side, the deep love goes on.
Posted 02/02/2022 10:09 AM
MLove:
Beautiful!
Posted 02/02/2022 09:35 AM
RonPoems:
Ill take honesty over sophistication, any day. Beautiful poem.
Posted 02/02/2022 09:34 AM
Michael:
I think this poem is quite sophisticated! Nicely done Doris . . . what a life!
Posted 02/02/2022 09:17 AM
cork:
It is not easy to write a good love poem, but she has done it.
Posted 02/02/2022 09:00 AM
Darrell Arnold:
I just wonder what Doris thinks a sophisticated poem is. This is a real poem. Simple, direct, it rhymes, and it has meter. And the sentiment will touch every heart. A beautiful poem like this would give any man in uniform an emotional boost. I love it.
Posted 02/02/2022 08:02 AM
Lori Levy:
Very loving.
Posted 02/02/2022 05:54 AM
KevinArnold:
I understand Doriss question . . . And Jaynes answer. A heartfelt one.
Posted 02/02/2022 05:13 AM