No one calls him Rockwell.
I guess the people who know figure
he's no Van Gogh. No Rembrandt or Picasso.

I only bring this up now because
I'm looking at the framed print hanging
on our dining room wall. Two gawking
dockers sharing a table at a diner with a boy
and his grandmother saying grace.

My work boots are still laced up tight
as I sit at the table laughing
with my young sons. Their mother
dishes up dinner hot off the stove,
sets down plates, reminds the boys
to wait so they won't burn their tongues.
She manages a smile. I manage one back.

I'm hungry and, although agnostic these days,
my chin rests on unintentionally laced fingers.
I want to bow my head.


© by Danny Earl Simmons.
Used here with the author's permission.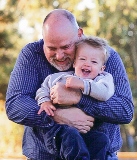 Danny Earl Simmons lives in Lebanon, Oregon. Author of Tender Melancholy, a full-length poetry collection, and curator of the Galleywinter Poetry Series, his work has appeared in a variety of journals. Learn more about Danny at www.dannyearlsimmons.blogspot.com.
Jo:
Beautiful poem and a tribute I think Norman Rockwell would have savored. Thank you.
Posted 02/03/2022 02:48 PM
CamilleBalla:
Nice!
Posted 02/03/2022 02:31 PM
doncolburn:
Won't call you Simmons, Danny! Because you nailed it with this one. Love the deft little shifts and details and surprises that turn this poem, by the end, for all us agnostics, into a prayer. Thank you, and all best with the ongoing work.
Posted 02/03/2022 12:00 PM
cork:
Poems from paintings!
Posted 02/03/2022 09:03 AM
Michael:
Even Agnostics bend the knee to Norman! Nicely done, Danny.
Posted 02/03/2022 08:30 AM
Rob:
Norman Rockwell (I almost just called him "Rockwell" :) captured lovely life moments in his work, just as your poem does!
Posted 02/03/2022 06:12 AM
Lori Levy:
Beautiful scene and great ending.
Posted 02/03/2022 05:28 AM