There is no time for loneliness
When a cowboy rides by day.
It's rope and ride and burn a hide
And find the dogied stray,

But when, at last, he's back in camp,
His night horse standing by,
He stares into the gloom of night
And breathes a quiet sigh.

The cowboy reaches in his pocket
Pulling free a silver locket.
Inside is the pretty face
Of darlin' Laura Lee.

Each day he rides in dust and sun
His life is free and wild and fun,
Yet in her tender loving arms
Is where he longs to be.

For now he thinks of headin' home
When shippin' time is through,
To hold her in his arms again--
The girl whose heart is true.

He finds the locket in his vest
And opens it to see
Her smiling eyes and lovely face;
He yearns for Laura Lee.


© by Darrell Arnold.
Used here with the authorís permission.
†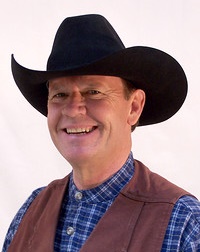 Darrell Arnold has been writing poetry for more than forty years. He was an associate editor at Western Horseman magazine for five years, then launched his own publication, Cowboy Magazine, which ran for nearly eighteen years. Poetry, primarily cowboy poetry, was an integral part of both publications. In the early '90s, Darrell started turning his poetry into songs and has now had more than 20 poems recorded by various western singers; two of them have earned song-of-the-year" awards from Western Writers of America and the Western Music Association. Darrell continues to write poetry and has extended an open invitation to cowboy singers everywhere to team up with him to make more memorable songs. For details and special pricing on his books, contact him at P. O. Box 3097, Colorado City, AZ 86021.
Anastasia:
So sweet and wonderful. Such a sharp contrast between the day person and the night person. Hopefully, Laura Lee has a locket with his picture, too.
Posted 02/23/2022 12:06 PM
Jancan:
Lovely, expressive, romantic piece
Posted 02/04/2022 10:46 PM
carlpalmer:
Darrell - I'm old enough to remember Roy Rogers and Dale Evans, but never heard your definition of Dogies before. Thank you, my friend. Carl
Posted 02/04/2022 04:01 PM
Darrell Arnold:
It occurs to me that YDP may have readers who are young enough to not understand Jayne's reference to Roy and Dale. It also occurs to me that the term "dogied" might not be understood by all. Often, when a calf is orphaned, it experiences digestive/nutritional issues that result in a swollen belly. Those calves are referred to as "dough-guts," or "dogies."
Posted 02/04/2022 11:21 AM
Janet Leahy:
It is so special to hold someone's picture in a locket, a silver locket adds to the aura of romance.
Posted 02/04/2022 11:20 AM
Lori Levy:
Like the contrast between the wild ride in the dust and sun and the locket with Laura Lees picture in it.
Posted 02/04/2022 10:40 AM
cork:
Bravo!
Posted 02/04/2022 09:18 AM
Michael:
Unique approach, Jayne, to the theme of love. Roy and Dale . . . an enthusiastic thumbs up!
Posted 02/04/2022 08:18 AM