I am a temperate woman.
I cool my coffee with an ice cube,
take my water plain,
my steak medium rare,
set the thermostat at seventy.
I live in a temperate zone,
wear size average clothes,
let my ice cream melt a bit.
I go easy on the jalapeno,
hate shouting matches,
also dislike silence
with the cold shoulder.
Watch the speed limit,
use thrift sale finds,
drive a pre-owned Chevy.
Moderation is my motto
With one exception.

Donít show me that tepid love.
Iíll take that deluxe,
supersized, outrageous,
spicy, with a lifetime guarantee.


This poem first appeared in Jill Magazine (2018).
Used here with permission.
†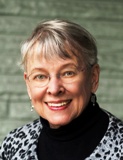 Peggy Trojan retired from teaching English to the north woods of Wisconsin. She and her husband, David, with the help of family, built a house next to a trout stream, where Peggy writes and tends her raspberry patch so she can make jam. Peggy's latest collection is All That Matters, Collected Poems, 2010 - 2018. Her recent release, River, won second place in the 2021 chapbook contest of the Wisconsin Fellowship of Poets, of which Peggy is a member.

Anastasia:
As the saying goes, "relatable content"! Thank you for capturing this so well!
Posted 02/21/2022 10:50 PM
Jancan:
Great poem--descriptive with such expressive examples
Posted 02/07/2022 11:22 PM
Lori Levy:
Great! Love the ending.
Posted 02/07/2022 01:47 PM
Jgonzalez 1994:
I love the poem,you want a great big old love everything else you can take in moderation
Posted 02/07/2022 09:09 AM
Larry Schug:
This is a temperate poem. It would have been ruined with the overwriting it if you weren't a temperate poet. My favorite line, for some reason is "with one exception". It comes at just the right time in the poem.
Posted 02/07/2022 08:52 AM
Michael:
This is definitely in the "hot zone"! Nicely done, Peggy.
Posted 02/07/2022 08:48 AM
wordartdjc:
This is a delightful, 'down to earth' poem that makes one smile. We all need a bit of that these days. Thank you, Peggy.
Posted 02/07/2022 08:13 AM
Sharon Waller Knutson:
I love this delightful uplifting poem. Describes me to a T right down to the punchline: "Dont show me that tepid love. Ill take that deluxe,supersized,outrageous, spicy, with a lifetime guarantee."
Posted 02/07/2022 05:09 AM