They're together
Probably in their mid-70s
Getting into a car

He opens the passenger door
For her
And they continue talking

Having picked up whatever
Medicines they need
It seems they still have

More to do
I overhear
"Yes, and then we need to…"

I wonder where they're headed
I'm waiting for my wife
To get her prescription

We're together too
And still have more to do
A trip to the grocery store

Is next
To pick up wine and beer
Something to bring to a dinner

Party
We were told not to bring anything
Just ourselves

My wife insists otherwise so
Now, the pleasant weight of a gift
Rests comfortably in my hands


© by David M. Tookey.
Used here with the author's permission.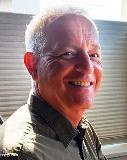 David M. Tookey is a retired elementary school teacher who lives in Seattle, Washington. A bicycle is his main mode of transport around town; David says he finds he can tinker with poems in his head as he rides. He also enjoys creating and sharing organic baked goods, taking long walks with family, reading, and creating quiet space in a big city.
Anastasia:
The little things make up most of our days, and so make up most of our lives. It's good to read such a moment described with such tenderness and contentment.
Posted 02/08/2022 02:59 PM
Lori Levy:
Tenderly expressed.
Posted 02/08/2022 11:45 AM
Jancan:
This expressive poem describes realistically what daily life is really about, taking care of things that matter with those that matter most to us.
Posted 02/08/2022 10:07 AM
njc:
Perfect.
Posted 02/08/2022 10:06 AM
wordartdjc:
It seems this is 'the slice of life' poem. Yes, our everyday accomplishments can give us a thoughtful poem. Interesting!
Posted 02/08/2022 09:24 AM
Larry Schug:
"a gift rest comfortably in my hands". A great ending and a fine metaphor.
Posted 02/08/2022 08:54 AM
Michael:
I love poems that hit me where I live . . . that add brushstrokes to the canvas of my life. I also like the unusual lineage featured in this poem, something I like to do within my own writing. It gives the reader occasion to slow down, reflect, make connections, before moving on. Nicely done, David.
Posted 02/08/2022 08:50 AM
Rob:
The spotting of dopplegangers is a fun moment followed by the beauty of the observation of carrying a gift. Lovely!
Posted 02/08/2022 05:44 AM