Previous

Idaho Falls, Idaho - 1995
by
Sharon Waller Knutson


Next
The ink barely dry on his divorce papers,
the farmer turned real estate broker
walks in the bookstore and tells me
he reads a book a day and wants to swap.
Then asks me for supper at a small café
across the river where we enjoy lobster
and baked potatoes and conversation
as smooth as the caffeine we sip until
we see the closed sign in the window
and the waitresses napping in their chairs.
Silver anniversary? the waitress asks
as he pays the check. First date, he says.
I nod and she laughs. Such jokers.
 
Like teenagers, we are eating corn
on the cob and shish kabob
in the bleachers at the Blackfoot Fair
as Tim McGraw sings, I like it, I love it
I want some more of it and we drive
in his white Buick to the top of the hill
above the tiny toy city on the tracks.
You kids go home to your folks, says
the policeman with the shiny flashlight.
I go home to my mother with melanoma
and he to his seventeen-year-old son.
 
Twenty-seven years later, mother long
gone, son with kids and wife of his own,
we eat grilled chicken and green beans
in Applebee's sitting smack dab in the spot
where the comfortable café once cuddled
the riverbank, but we skip the freeway
ride to the fair and pick up a DVD
by Sheryl Crow and relax in the recliner
in front of the DVD player and listen
to her sing, Every Day is a Winding Road
and pretend we are seeing her in person
as we revel in the landmarks of our life.

From Survivors, Saints and Sinners (a forthcoming collection).
Used with permission.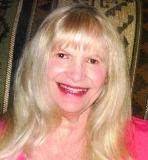 Sharon Waller Knutson lives in a house her husband, Albert, built out of clay from the land on a dirt road in the middle of a wildlife habitat and open range of the Arizona desert. A retired journalist, she writes poetry for readers who don't normally read poetry. In 2014, Sharon sold her chapbook, My Grandmother Smokes Chesterfields, to winter visitors from all over the world in a café where her husband played guitar and sang country music. Her customers told her they expected her to publish a new poetry book when they returned each year so, in 2015, she published Desert Directions, about her life in the desert. In 2016, she published They Affectionately Call Her a Dinosaur, poems about her customers and other seniors in her life who started new careers, businesses, and relationships after they retired. In 2017, she published I Did it Anyway, poems about how she broke the glass ceiling in the newspaper business in the '60s and '70s, when women were typically relegated to the society pages. Sharon's newest collection is Survivors, Saints and Sinners, and another, Nanny Love, will be published later this year. Meanwhile, she and Albert (now retired from his music gig) stay busy raising assorted critters and enjoying their 11 grandchildren and 6 great-grandchildren..Learn more about Sharon here.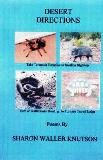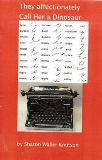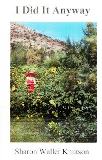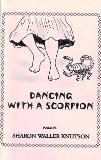 peninsulapoet:
Always a pleasure to read Sharon's poems
Posted 02/13/2022 11:57 PM
Anastasia:
What a wonderful set of memories, and such a good relationship!
Posted 02/13/2022 07:57 PM
richard.cary@att.net:
YAY!!!
Posted 02/13/2022 03:23 PM
peggy.turnbull:
A guy who reads like that is a keeper. I love the length of this romance. All the details add up to a love I can believe in.
Posted 02/13/2022 02:54 PM
Stephen Anderson:
I think that this poem captures lifes soft backhand well.
Posted 02/13/2022 11:44 AM
mjorlock:
Sweet Valentine's Day poem that rolls all those details of a relationship into a great closing moment.
Posted 02/13/2022 09:54 AM
KinVT:
Very sweet. Made me smile. The policeman with the flashlight made me laugh out loud.
Posted 02/13/2022 09:54 AM
paradea:
Great story!!! Love it!!
Posted 02/13/2022 09:07 AM
Lori Levy:
Love the details in this love poem.
Posted 02/13/2022 07:56 AM
Contents of this web site and all original text and images therein are copyright © by Your Daily Poem. All rights reserved.
As an Amazon Associate I earn from qualifying purchases. Purchasing books through any poet's Amazon links helps to support Your Daily Poem.
The material on this site may not be copied, reproduced, downloaded, distributed, transmitted, stored, altered, adapted,
or otherwise used in any way without the express written permission of the owner.