She makes the bed
as she's getting out of it—
seems more efficient that way.
Even though when she goes away
you can have
the whole bed to yourself,
sprawl out in the middle, you stay
on your side anyway,
in your own comfortable mattress indentation,
although you have been known
to use her pillows, especially
the one retaining the faint scent of her hair.


This poem first appeared in The Orchards Poetry Journal (Summer 2021).
Used here with permission.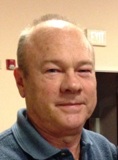 Michael Estabrook, a small press poet since the 1980s, says he is "always striving for greater clarity and concision and for rendering language more succinct, precise, accessible and appealing--a Sisyphean adventure for sure." Now retired after 40 years, Michael, who lives near Boston, Massachusetts, is enjoying having more time to write and to work outdoors. He has published more than 20 collections, a recent one being The Poet's Curse, A Miscellany (The Poetry Box, 2019).

Anastasia:
Aw, how sweet!
Posted 02/13/2022 07:59 PM
Shoshauna Shy:
I always love coming upon an Estabrook poem.
Posted 02/12/2022 08:48 PM
Lori Levy:
Beautifully expressed.
Posted 02/12/2022 03:52 PM
peggy.turnbull:
A very sweet poem. A glimpse of happiness.
Posted 02/12/2022 03:16 PM
CamilleBalla:
I like the way you use the pronoun you in this unique and loving poem.
Posted 02/12/2022 11:04 AM
cork:
How many turns does one make in a night?
Posted 02/12/2022 10:46 AM
KevinArnold:
Ah, a romantic lad for sure.
Posted 02/12/2022 10:41 AM
Larry Schug:
The metaphor in the title is clever.
Posted 02/12/2022 10:15 AM
paradea:
Good one!!!
Posted 02/12/2022 10:08 AM
Sharon Waller Knutson:
I love the simplicity and uniqueness of this powerful charming poem and it's many layers of love. Favorite lines: although you have been known to use her pillows, especially the one retaining the faint scent of her hair.
Posted 02/12/2022 09:35 AM
Jancan:
Such a moving, loving poem! Touched my heart
Posted 02/12/2022 09:30 AM
Michael:
Good poets speak the language of "where" people live. Thanks Michael!
Posted 02/12/2022 08:26 AM
wordartdjc:
Ah, surely a Love Poem, this...Sweet and moving when we reach the last line...
Posted 02/12/2022 08:03 AM