Ten fingers, wrinkled by sixty
Years of washing clothes, dishes, soft baby skin,
Caress my cheeks; they turn back time
Six decades and again
Are soft and smooth,
No longer rough and worn.
†
Ten fingers clasp behind my waist
Drawing to deepest
Love I know,
Surging from heart to hands;
Ten fingers, washing, cooking, caressing,
Wrapping tight around my waist.


© by Don Lindman.
Used with the authorís permission.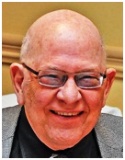 Don Lindman is a retired pastor who has served churches on both coasts and for 20 years in the Central Plains. He now lives with his wife of 60+ years in west suburban Chicago, where he writing, tennis, golf, and woodcarving. Don is the author of five books; Making a Long Story Short and The View from the River are collections of journalistic essays, Beyond Belief is a memoir, Pastor Arnie and the Accidental Presidents is a collection of short stories and poems, and Living Life from the Inside Out is a collection of religious essays.
Anastasia:
Clever title, lovely sentiment!
Posted 02/13/2022 08:00 PM
Jancan:
This lovely, moving poem touched my heart!
Posted 02/12/2022 09:32 AM
Lori Levy:
So much love in those ten fingers.
Posted 02/11/2022 02:04 PM
Michael:
Just the right sentiment, Don, and so well done. Congratulations and thanks for this well-crafted composition.
Posted 02/11/2022 11:41 AM
KateTompkins:
Beautiful tribute. Nothing like a decades-old love.
Posted 02/11/2022 11:28 AM
paradea:
Good poem
Posted 02/11/2022 11:16 AM
wordartdjc:
Lovely words of love and recall...It makes one nostalgic for our own love now gone but always in our hearts.
Posted 02/11/2022 09:54 AM
KevinArnold:
Cute title.
Posted 02/11/2022 09:37 AM