I saw her at a party, walked up
and said, I wonder if you would mind
getting married, buying a house,
enduring the agony of childbirth
a couple of times, watching a lot
of Netflix together, dining out
(Iím thinking, specifically,
of the osso buco at Rugerriís),
getting a dog, negotiating mortgages,
and finally sitting by me in those last days,
arranging the funeral, tidying up,
then starting your strange new life,
the one without me.
Is that too much to ask?
And she sipped her mojito
and said, what are we waiting for?


© by George Bilgere.
Used with the authorís permission.
†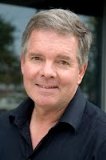 George Bilgere lives in Cleveland, Ohio with his wife and two sons. The family endures the rigors of a Cleveland winter, then flees to Berlin, Germany for the summer, where they spend their days bicycling, exploring the city, and goofing off. George's latest book is Central Air, published by the University of Pittsburgh Press. Learn more about him at http://www.georgebilgere.com.
gracecavalieri@gmail.com:
of course.Who wouldnt
Posted 02/10/2022 03:40 PM
Lori Levy:
Great!
Posted 02/10/2022 03:18 PM
ghctenmile@earthlink.net:
Talk about being far-sighted! I love this.
Posted 02/10/2022 02:53 PM
Adriana:
this approach is so wildly preposterous, if true, that I cannot stop laughing
Posted 02/10/2022 02:34 PM
CamilleBalla:
This made me smile. Unique and confidentfast forwards the reality of commitment! Well, for some Thank you! I will forward
Posted 02/10/2022 01:45 PM
richard.cary@att.net:
Yes! Poetry at its best! Thank you!
Posted 02/10/2022 12:40 PM
Anastasia:
Quite clever! And that's what we're agreeing to when we say "I do!"
Posted 02/10/2022 12:34 PM
Sharon Waller Knutson:
George Bilgere has to be my favorite male poet of all time. He is funny, endearing, charming and wise all at the same time. It's an honor to be published in the same journal as the poet who has been one of my biggest influences.
Posted 02/10/2022 11:56 AM
MatthewMiller:
Excellent!
Posted 02/10/2022 11:51 AM
RonPoems:
Wonderful conceit. Ive got a Valentines Day poem in mind. Thanks George.
Posted 02/10/2022 11:11 AM
cscoville:
I really feel that this is a profound poem! It almost made me cry thinking about the arc of a marriage and a life.
Posted 02/10/2022 10:34 AM
KevinArnold:
The fun of the poem is exceeded only by the biography. Winters in Cleveland, summers in Berlin? Oh my.
Posted 02/10/2022 10:13 AM
paradea:
Love this poem!!!
Posted 02/10/2022 10:06 AM
Michael:
WOW! I wouldn't get past "would you mind!" Extremely well done!
Posted 02/10/2022 08:57 AM
cork:
That's laying it on the line.
Posted 02/10/2022 08:51 AM
Lizou:
Sweet, smart and lovely♡.
Posted 02/10/2022 08:44 AM
KinVT:
Now thats how I like to begin my day! - with a chuckle & a smile. Well done. Lovely.
Posted 02/10/2022 08:19 AM
Gilbert Allen:
It's nice to know that the truth isn't always sad. A charming poem.
Posted 02/10/2022 07:52 AM
r1manchester:
Georg, as usual, clever thoughts, quick lines...very good poem, but I'll bet you knew that!
Posted 02/10/2022 06:45 AM
Rob:
Clever, fast-forward of life and depiction of two characters!
Posted 02/10/2022 06:24 AM
VodVonDetta:
lovely poem George. I met my mother at a party too, except we were drinking pina coladas!
Posted 02/10/2022 04:26 AM